A Journey to Medical School Laced With Adventure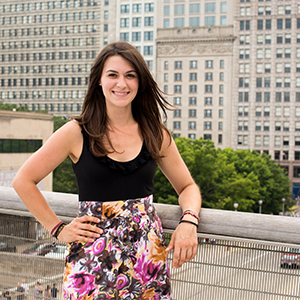 Brooke Bachelor thrives outside of her comfort zone — living in far-away countries, adapting to new cultures and even speaking foreign languages.
As a registered nurse, she completed a yearlong Princeton in Latin America fellowship in Peru, doing community health education in rural mountain communities outside of Cuzco. She was home for just a few months before she left for another fellowship, this time through Global Health Corps in an HIV clinic outside of Kampala, Uganda.
It was during some of her earlier travels that she realized she wanted to dive deeper into a medical career and become a doctor.
"I was in a lot of rural areas and I felt like I didn't know enough," says Bachelor. "I wanted a little more autonomy in my work, and I wanted to contribute in a different way."
To pursue that goal, Bachelor enrolled in Northwestern University School of Professional Studies's premedicine post-baccalaureate certificate program, a 12- to 21-month program designed for bachelor's degree graduates who are interested in changing careers to a health profession.
"It's essentially all the classes packaged together that you need for medical school, no matter what degree you have," says Bachelor, whose classmates had backgrounds in everything from finance to music. After completing the program, Bachelor chose to attend medical school at Des Moines University.
Bachelor's love of travel flourished at Northwestern, where she was awarded a John and Martha Mabie Public Health Research Fellowship to do diabetes research in Bolivia. She also credits Northwestern with connecting her with the Princeton in Latin America fellowship.
It was during Bachelor's time in Uganda that she realized she was happiest working face to face with patients. She is now studying to become a Doctor of Osteopathic Medicine (DO) — a profession that takes a holistic approach to treating patients.
Bachelor already has practice approaching medicine from a wider focus, taking cultural and regional practices into account. In Peru, she learned how local healers incorporate mountain plants into treatments, such as using the muña plant to treat indigestion.
She also discovered a passion for maternal and reproductive health in Peru after learning about the area's high maternal mortality and poor pre- and post-natal care stemming from barriers such as low incomes, fear of discrimination and long distances to health services.
"I found myself really moved in a way I had not been before to help connect women with culturally sensitive, accessible care and to empower women to give birth how they want to," says Bachelor. "For example, many women had been instructed to lie on their backs in the local clinics for their entire labor experience even though they wanted to give birth in a more vertical position."
During her studies at Des Moines University and in her future career as a D.O., Bachelor plans to continue traveling abroad.
"I'm not quite sure where my path will take me," she admits, but she doesn't sound worried — wherever the path leads, it's another journey she's eager to take.
Article by Kelsey Rexroat