Northwestern University Named National Resource Center for Osher Lifelong Learning Institute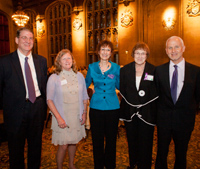 The Bernard Osher Foundation recently announced Northwestern University as the National Resource Center of the foundation's Osher Lifelong Learning Institute (OLLI). OLLI is a vibrant peer-led educational community for seasoned learners from their 50s to 90s, with 119 branches based in universities across the country. Northwestern's branch, which is operated by the School of Professional Studies and recently celebrated its 27th year of operation at the University, serves more than 850 learners at both the Chicago and Evanston campuses, and offers a diverse range of noncredit courses across myriad subjects for adults interested in exploring the joy of continuing education. 
"Northwestern has a strong relationship with the Osher Foundation, and we are excited to host the new National Resource Center here and to help grow and support the vibrant Osher Lifelong Learning Institutes across the country," said Morton Schapiro, President and Professor at Northwestern University.
The center will be based in the School of Professional Studies's Chicago campus, and will function as a hub of information, best practices, opinions, solutions and experiences between all of the OLLI branches. The center also organizes the Osher Lifelong Learning Institute's national conference every 18 months.
The move, which is effective October 1, 2014, was made possible by a multi-million dollar gift from The Bernard Osher Foundation to the university.