From Rwanda to Northwestern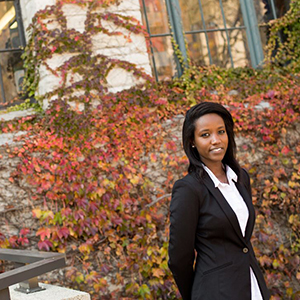 Carine Kanimba was only an infant during the Rwandan genocide of 1994, which left nearly a million people dead, but the events had a profound impact on her family's life. The tally of violence would likely have reached even higher were it not for the actions of her father, who protected more than 1,200 refugees at his hotel and whose story was portrayed in the acclaimed film Hotel Rwanda.
Kanimba's family relocated to Belgium and started The Hotel Rwanda Rusesabagina Foundation, where she works as an intern promoting the foundation's goals of reconciliation and genocide prevention. "The small degree of violence portrayed in the film is actually nothing compared to the level of brutality that occurred in reality," said Kanimba, who has discovered that many people are only aware of the genocide because of the film. "I think it was very impactful and educational for many people, and I'm glad it is serving what it was meant to do."
After the movie was released, Kanimba began attending an East Coast boarding school in order to learn English and have a supportive environment while her parents traveled doing humanitarian work. Now a senior in Northwestern University School of Professional Studies's political science undergraduate program, she has found outlets for her activism both on campus and abroad. She is the events coordinator for the African Students Association and the speakers co-chair for Northwestern Community for Human Rights, which organizes the largest student-run conference on human rights in the United States. Her junior year, she studied in Santiago de Chile and did investigative work on the country's former military dictatorship.
Last summer, Kanimba learned about international development firsthand by practicing it in Nicaragua through the Global Engagement Studies Institute's study abroad program. "Doing that definitely opened up my horizon in international development and humanities," she said. "I'm able to have a better idea of what kind of law I want to get into and what kind of international work I would like to do."
Currently applying to law schools, Kanimba plans to study humanitarian law. "My hope is to go back to Rwanda eventually once the political scene is a little safer and to do humanitarian law there," she said. "The work I did in Nicaragua has also made me more interested in Latin America's political scene."
Kanimba admits that her family history and globe-trotting background have given her a different perspective from her peers. "In politics and international studies, I feel like what I see and what I pay attention to in the media is different," she said. "People who talk about Rwanda think of it as a country that has risen up from the genocide and is doing great, but I know family members who live there are currently struggling under the dictatorship.  It gives me a more critical standpoint — I'm not willing to agree directly with something, because I know there always is and always will be a different side to the story."
As she embarks on law school studies and a career, Kanimba will continue to shed light on those untold stories, with an eye on human rights victories that still need to be won. 
Article by Kelsey Rexroat