The Plots Thicken: Creative Writing Programs Ripen at Northwestern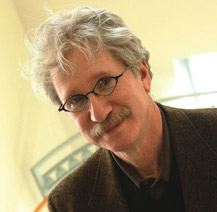 In the 10 or so years it might take to write the Great American Novel, creative writing programs at Northwestern have taken root, branched out, blossomed. What began in fall 2003 as the Master of Arts in Creative Writing (MCW) program now encompasses a Master of Fine Arts (MFA) degree, opportunities to work on a renowned literary journal, and classes on topics like the video essay. Created to serve a local need, Northwestern's creative writing programs now pull poets to Chicago, along with writers of fiction and creative nonfiction.
What has not changed is the emphasis. "It's about becoming a better writer, about personal growth as a writer, even about growth as a person," says Reginald Gibbons, founding director of the programs, director of Northwestern's Center for the Writing Arts, and professor of English, classics, and Spanish and Portuguese in the Weinberg College of Arts and Sciences. "It's an arts degree, not a skill set. Success as a writer depends on talent, luck, and stamina."
Gibbons , an award-winning poet and novelist, was director of the master of arts in literature program when students asked him to add a few creative writing courses to the curriculum. As interest grew, students asked SPS to offer a master's degree in creative writing. Thus, the MCW program was created in fall 2003. The school responded to student demand yet again in 2008 with the launch of the MFA in creative writing. The MFA requires a longer course of study — 18 courses, versus 10 for the MA — with students in both programs enrolling in the same workshops and studying with the same noteworthy faculty.
The success of the MA and MFA programs can be seen in the ever-expanding pool of writers to emerge from them. Eleven years may seem like a relatively short time for such programs to take root, but in fact they are built on a long history of teaching creative writing at Northwestern.
"Great writers, including W. H. Auden and Frank O'Connor, have lectured and taught here over the years," says S. L. Wisenberg, who served as co-director and then director of the creative writing program from 2004 to 2014. "The creative writing program developed from that interest and brought a wider range of writers to campus, like Nigerian author Chris Abani and Colombian fiction writer Juan Martinez." Wisenberg will continue to teach both writing and the teaching of writing in the program. Her books include creative nonfiction and collections of essays and short stories that have garnered a Pushcart Prize and other awards.
Wisenberg also served from 2010 to 2014 as literary director of TriQuarterly, the literary magazine founded at Northwestern in 1958 and now available online to readers around the world. Students in the creative writing program get hands-on publications experience by working on the journal. "We have student managing editors and students who read the submissions," says Wisenberg. "They make the decisions. It makes them realize that first paragraph has to be really good."
Each year the programs offer more ways to learn by doing, especially when it comes to accruing teaching experience. Wisenberg has created multiple opportunities for students to teach, including in the Apprentices program, in which they create one-hour classes to teach to the public; supervised internships (one creative writing student taught for a year at the Cook County Juvenile Detention Center);  an eight-week class at the Osher Lifelong Learning Institute; in a free, public eight-week session, taught for credit; as teaching assistants for SPS's business writing course; and by tutoring Northwestern students at the Writing Place.
Given the repute of the faculty, the success of the graduates, and the ever-growing opportunities for professional development, it seems natural that the programs would attract a widening pool of applicants, but that growth came as the biggest surprise to Gibbons and Wisenberg.
"When we began, most of our students lived in the Chicago area and worked full time," says Gibbons. "Now more of our applicants are younger, some just out of college, and some of them are moving to Chicago for the program, relocating from all over the U.S. We never expected that would happen."
Practicing What They Teach: Publications by Creative Writing Faculty 
Steve Amick: novels Nothing But a Smile and The Lake, the River & the Other Lake
Steve Bogira: Courtroom 302 (nonfiction)
John Bresland: video essays aired on NPR and online literary journals 
Ana Castillo: novels So Far From God, The Guardians and Peel My Love like an Onion; poetry collections 
Eugene Cross: Fires of Our Choosing (short story collection) 
Averill Curdy: Song & Error: Poems; co-editor of The Longman Anthology of Poetry 
Stuart Dybek: I Sailed with Magellan; The Coast of Chicago; Childhood and Other Neighborhoods; Ecstatic Cahoots; Paper Lantern (fiction); poetry collections 
Christina Henríquez: The Book of Unknown Americans (novel) 
Reginald Gibbons: Slow Trains Overhead: Chicago Poems and Stories; Creatures of a Day (poetry); Sweetbitter (novel)
Goldie Goldbloom: The Paperbark Shoe (novel); You Lose These (collected short fiction) 
Susan Harris: co-editor of The Ecco Anthology of International Poetry
Alex Kotlowitz: Never a City So Real; The Other Side of the River; There Are No Children Here (nonfiction) 
Laurie Lawlor: fiction and nonfiction for children and young adults, including Rachel Carson and Her Book That Changed The World and Addie Across the Prairie
Michael McColly: The After-Death Room (memoir) 
Simone Muench: poetry collections The Air Lost in Breathing; Orange Crush; Lampblack & Ash 
Naeem Murr: novels The Boy; The Genius of the Sea; The Perfect Man
Nathanaël: books in English and French, including Sotto l'immagine and Sisyphus, Outdone.:Theatres of the Catastrophal
Christina Pugh: Grains of the Voice; Restoration; Rotary (poetry collections) 
Ed Roberson: poetry collections including Voices Cast Out to Talk Us In; Just In: Word of Navigational Change; Atmosphere; City Eclogue 
Shauna Seliy: When We Get There (novel) 
Peggy Shinner: You Feel So Mortal/Essays on the Body 
Christine Sneed: Portraits of a Few of the People I've Made Cry (short stories); Little Known Facts (novel) 
Megan Stielstra: Everyone Remain Calm (short story collection); Once I Was Cool (essay collection) 
S. L. Wisenberg: The Adventures of Cancer Bitch (nonfiction); Holocaust Girls: History, Memory & Other Obsessions (essay collection); The Sweetheart Is In (short story collection)
Student Success Stories: Publications and Prizes
Richard Baer: Switching Time: A Doctor's Harrowing Story of Treating a Woman with 17 Personalities (nonfiction) 
Kevin Davis: The Brain Defense (forthcoming nonfiction) 
Julianne Hill: video essay presented at the Cleveland International Film Festival and others 
Dana Norris: founder of Story Club, a monthly live lit show in Chicago, Minneapolis, and Boston; founder and editor in chief of Story Club magazine 
Anthony Opal: forthcoming poetry collection, ACTION; founder of The Economy literary journal 
Cheryl Reed: Poison Girls (forthcoming novel) 
Virginia Smith Rice: When I Wake It Will Be Forever (poetry collection) 
Jeremy T. Wilson: winner of 2012 Nelson Algren Award for Short Fiction for "Everything is Going to be Okay"