Using Technology to Improve Clinical Outcomes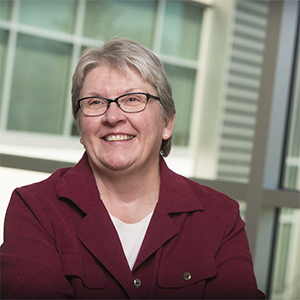 As a former nurse, Elise Blanchard already knew the importance of clinical data. So when she started planning a career switch she knew she wanted to help healthcare providers incorporate technology into their clinical practices. 
After being out of school for about 20 years, Blanchard began to research online programs that would allow her to make a career change.
"I felt that some more background in the field would be helpful, as I wanted to be sure that what I designed had both a solid foundation in both a practical and theoretical sense," she said. "It seemed appropriate to think about an advanced degree — but having a family and a full time job — I didn't want to move."
Blanchard currently works at Meriter Health Services in Madison, Wisconsin, where she lives with her husband. At Meriter, she serves as an application analyst on the radiology portion of their electronic medical records system, where she offers system analysis and testing, implementation, and day-to day system and user support. Most of the hospitals and clinics associated with Meriter have not been using the radiology module and for the next couple of years, Blanchard will be assisting in transitioning the entire organization to this module. 
"I'm the only member of our team with background and experience with the radiology model of this vendor," she said." So right now I spend a lot of time mentoring the other analysts."
Blanchard eventually chose the online Master of Science in Medical Informatics program at Northwestern University School of Professional Studies (SPS). Because she was already working full time in the field, much of what she learned at SPS was immediately applicable to her job. She says that experienced instructors made all the difference in building a knowledge base that exceeded the expectations of the clinicians she was working with.
"It really impressed me that the professors had really practical working backgrounds related to what they were teaching," she said. "They shared real life examples that were really helpful to reinforcing the concepts we were learning and trying to apply." 
Blanchard adds that through digital meetings, she was able to work on group projects with other students from all over the world. And she was able to apply these lessons in her career almost immediately by using the information she learned classes and through interactions with her peers.
When she's not putting her knowledge about biomedical statistics, database construction or ethical implications to use, Blanchard loves to create a very different kind of pattern through crafts. She owns a number of books about sewing, quilting, knitting and crocheting that were passed down to her from generations of women in her family stemming back from 1930.
A love of needlework isn't the only thing Blanchard's family has passed down. In the same month that she completed her master's degree, her eldest son also completed his. They threw a joint-graduation party to celebrate their efforts and a multi-generational love of education. 
Article by Danielle Susi