Exploring SPS's Online Master of Science in Global Health: Q&A with Faculty Director Ashti Doobay-Persaud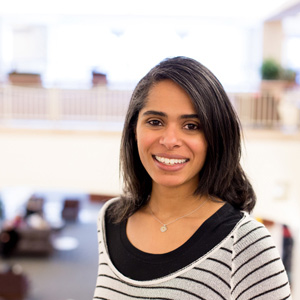 Last fall, Northwestern University School of Professional Studies launched an online Master of Science in Global Health (MSGH) in partnership with Feinberg School of Medicine. The degree is the first of its kind to be offered fully online, and aims to provide clinicians, researchers, nonprofit administrators, policy analysts, social entrepreneurs and others with a comprehensive foundation in global health in an interdisciplinary professional program that addresses all aspects of global health — from the strategies behind shaping public policy, to the challenges of delivering clinical care in the field (and everything in between).
To learn more about the program, its curriculum and what an MSGH can offer students, we talked to faculty director Ashti Doobay-Persaud, MD.
Q: What was the impetus behind launching an online master of science in global health at Northwestern?
A: We saw an opportunity to create a program that helps people who have passion for and commitment to global health gain the knowledge and necessary skills to contribute to the big fields in global health — like public policy, service and scholarship. We want people with medical backgrounds or people working in the allied health fields to be able to make a meaningful difference in places where it's needed, and so we designed this program to help them gain the knowledge and skills they'd need to launch successful careers in global health. 
Q: There are already a lot of graduate programs out there in public health — how would you differentiate a master's in global health from a master's in public health (MPH)?
A: Public health is particularly community-focused. It tackles issues that affect the health of an entire community and develops solutions individualized for that community — but the solutions are not necessarily global solutions that require global cooperation. Global health is a little bit different in that it takes the tenets of public health and applies them to an individual, as well as to a global health delivery system. The skills that you acquire in public health program are very much for big, programmatic interventions, like all-country or all-community interventions. The fields are similar in that they emphasize health, systems of health and health equity, but global health really refers to any issue that concerns many different countries, or is affected by many different determinants of disease, as opposed to those in one particular community or a country. Problems like climate change, tobacco control and maternal and child health exemplify "global" topics.
Q: What type of coursework will MSGH students take?
A: First, they'll get a foundation in important topics global health. We are working from a competency base that has been proposed by the consortium of universities for global health. Students will be doing some case-based work; there will be a lot of discussion board work for them to learn from one another; and the experience will culminate in a practicum, where they apply their knowledge and skills to add value to an existing program. The curriculum will explore global burden of disease; globalization and health care; social determinants of disease; collaborating, partnering and building capacity in health delivery systems; and global health bioethics — these are the big domains that we're going to address in all of the classes.  We're trying to thread those ideas throughout the program and some of them are individual classes in and of themselves.
Q: This program is offered at SPS in partnership with Northwestern's Feinberg School of Medicine. What can you tell us about the makeup of the MSGH faculty?
A: Much of the MSGH faculty are currently faculty members at Feinberg School of Medicine; students in the program will have full access to the same faculty and resources as Feinberg students and residents.
We also tried to build the faculty and curriculum to mirror the realities of working in the global health field. In practice, global health delivery requires working with people from different disciplines: people who work in business, administration, pharmaceuticals, physical therapy — pretty much every field you can think of. We have an instructor from the undergraduate pharmacy school; an instructor who is doing some work from the engineering school; and an instructor who is a medical anthropologist and the president of World Resources Chicago. Students will be learning about policy from a policy person, and learning about pharmaceuticals from someone who has been working to deliver antiretrovirals to people in Nigeria. The curriculum will truly mirror the realities of working in the global health field.
Q: This program is offered exclusively online — what does the online format offer students that a traditional full-time, on-campus program doesn't?
A: Many of the people that are going to enroll in this program will probably already be in established professions and may not have the flexibility to take full-time, campus-based degrees. This program is designed to help those people accrue knowledge and skills at their own pace, without interrupting their careers or relocating. Also, we'd like to make this available to people in other countries — to make this a truly global program — and that is really best done online.
Q: Who would be ideally suited for this program?
A: Researchers, nonprofit administrators, people already working in policy making and policy analysis, people involved in social entrepreneurship, and particularly people who want to work in non-government organizations (NGO), public health departments, or even government organizations.
Q: What sort of careers does this program prepare students for?
A: The great thing about this degree is that it opens students to a lot of career paths, depending on their interests. Graduates could potentially work in a public health department, an NGO or a government organization. They could return to academia doing research or advance their training in global health — or even gain an academic position in medicine. I also think this is great program for people interested in launching a career in social entrepreneurship in global health. And it's ideally suited for people who may want to work for some of the major players — like the World Health Organization or the Centers for Disease Control — who need skills to open doors to those organizations.
Q: Do you have any advice for prospective students considering the program?
A: I think it's always good advice to enroll in a program with an idea of why you want to do the course — to know where you might want to go with it when you graduate. If you are someone who wants to work in the field, tailor what you're doing right now to apply it to global health. Coming into the program with an idea of what you want to do with it would really help. You get the most out of it that way.
For news and information on SPS's Master of Science in Global Health, click here. 
Interview by Lesley Gibson