IMC Alumna Shares Medill Experience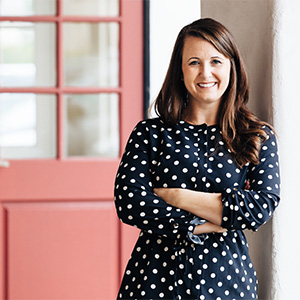 Christina Kellman was one of the first students to enroll in the Medill IMC Online program, offered in partnership with SPS — and in June 2014, she became one of its first graduates. Based in Southern California, she currently works as an account director in a marketing and advertising agency, and credits her Medill education with giving her the skills and knowledge to impact technology-based marketing experiences. She recently shared some highlights of her Medill experience.
Where are you from?  
I live in Orange County, California (Santa Ana to be specific), and I got my undergraduate degree in marketing from Loyola Marymount University in Los Angeles.
What were you doing professionally before you enrolled in the program? 
I was a group director for a print and digital media agency that manages some of the largest brands in the United States. My primary role included media planning and placement, evaluation of ROI based on segmentation and media channel, and management of a team of media managers.
Why did you decide to attend Northwestern and pursue an IMC degree?
I was in search of a graduate program that would provide me with knowledge beyond general business. After 10 years in the workplace, I felt as if I'd attained the knowledge of an MBA program without ever setting foot in a classroom. What I really desired was to bring new skills to bear that increased my value to the organization.
What was your favorite class and why?
Tough call! I have to call a tie:
Statistics: Before this class I'd never had an interest in the subject, but the instructor's desire to see the "lights go on" was so remarkable that our entire group ended up with a wealth of new skills. We stayed up until 10 p.m. PST on our video monitors working through problem after problem and our teacher wasn't happy until he knew the information soaked in.
Branding: In this class I learned to feel confident with my gut instinct, and to apply rational thought to tactical recommendations. A group of classmates and I participated in a competition where we pitched an activation campaign to the National Milk Producers Federation; we were delighted to win the competition and walk away with some great experience.
What advice would you give to incoming students about online learning?
Treat this program like you're sitting in the classroom — turn your cameras on and commit. Other online programs allow you to go at your own pace, but Medill's distance program duplicates the classroom experience with "live" sessions, group projects and ongoing conversations.
How would you describe your program in three words?
Surprising. Intimate. Evolving.
What's your favorite thing about being a Northwestern alumna?
The common thread I share with key thought leaders in the marketing and advertising industry.
How has your career changed since you graduated? 
I'm now the account director for full-service marketing and advertising agency with a focus on creating quality technology-based marketing experiences in the healthcare sector. My hope for the agency is that we have the opportunity to work with even more organizations that are interested in moving their marketing strategies down the tech continuum.