Using Data Analytics to Improve Robotics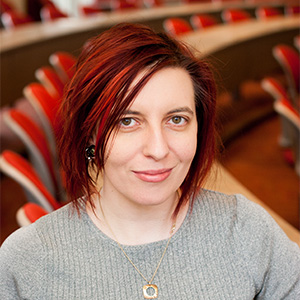 From opening an online body jewelry boutique to her current position as program manager of the ECHO Speech Platform at Amazon.com, Justina Lakinger has proved herself to be an adept listener. "It's all about understanding the customer experience," says Lakinger, who welcomes the challenge of sifting through mounds of data to find meaningful nuggets of information.
Lakinger's path to Amazon involved some bushwhacking. When she wasn't satisfied with the electrical engineering program she began as an undergraduate, she left school and used her tech skills to manage databases for manufacturers. After establishing her jewelry business in upstate New York, she became a database consultant in the insurance industry and then performed statistical analysis on the performance of wind turbines, work that segued into a job as a project manager at GE Energy. Meanwhile, she earned a degree from Excelsior College in liberal studies, "a mix of business, engineering, science and psychology that ended up working perfectly for me," she says.
When Lakinger and her husband fell in love with the Boston area and decided to relocate there, she found work as an analyst at the biotech company Genzyme. "My boss at Genzyme never stopped prodding me about getting a graduate degree," says Lakinger. That's when she decided to apply to Northwestern's online Master of Science in Predictive Analytics program. "It was the right academic fit and the right delivery format. The flexibility of the program was absolutely critical for me," says Lakinger, who travels for work extensively but logs into the program at lunch hour or on the road. When she broke her wrist just before a final exam, her professor worked with her to adjust the timing of the exam.
One of Lakinger's first classes was Angela Fontes's Introduction to Predictive Analytics & Data Collection. "It's about interweaving your professional experience with best practices," says Lakinger. "I really connect with that — it makes it real." She says a class on machine learning was immediately applicable to her current role as a program manager in speech technology at Amazon. "I work with a team of machine-learning scientists, and now I can speak their language more fluently. I would not be as successful in this role without what I've learned at Northwestern."
Article by Leanne Star