Liberal Studies Opens New Worlds for International Studies Professional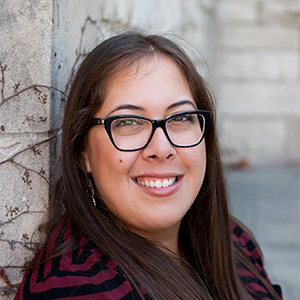 As an international student adviser in Northwestern University's International Office, Stephanie Cisneros oversees about 675 international students. She manages everything from orientation, immigration requirements and social media, to cultural outings and Thanksgiving hosts. Now that Cisneros is earning a Master of Arts in Liberal Studies (MALS) from Northwestern University School of Professional Studies (SPS), she is bringing an even broader set of skills to ensure international students make a successful transition to American college life.
Cisneros's passion for other cultures began when she was still in college herself, planning to become a veterinarian. Study abroad and summers tutoring in Italy sparked a strong interest in international study, and she changed her major to history. Trying to find a professional outlet for her interests after college, she was accepted into the Youth Job Center's Women Invested in Learning and Livelihoods program, where a mentorship component of the program led to her first position on campus. She then discovered that SPS's flexible MALS program would allow her to create a rich, globally focused course of graduate study.
"Instead of having to focus on one discipline like religion, history or literature, I was able to create my own track of courses that integrated all of these fields," she says. "I could also take classes in other colleges and graduate departments at a university with an outstanding reputation."
Cisneros noticed that her research, writing and time management skills improved, and she was exposed to subjects she might otherwise never have encountered. She's a "huge fan" of professors George Bond, Jeff Rice and Kimberly Gray, and their respective specializations in Asian religions and environmentalism may influence her thesis topic. And if you think a course like Indonesian utopias might not be immediately relevant to a career — think again.
"We have a high volume of students coming from Asia and many other places in the world," she says. "The program has helped me understand their background and support them without bias. Even if I didn't work in international studies, I'm certain that I would benefit from having broader horizons and new skills and knowledge."
Article by Linda Behzad