Information Science the Next Chapter in a Diverse Professional Life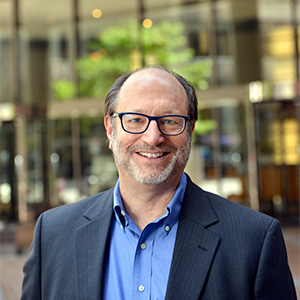 Many people count themselves lucky if they meet one or two life goals. Darrell Swanson has managed to do more: he has earned three degrees, raised a family, lived 10 years in Tanzania — learning Swahili and climbing Mt. Kilimanjaro — and has a scheduled a date night every Friday with his wife. Now, thanks to Northwestern School of Professional Studies's Master of Science in Information Studies (MSIS) program, he's writing an exciting new chapter in his life.
Swanson began, like many young people, "wanting to change the world." His starting point was at Purdue University, where he studied psychology before moving on to University of Arizona to conduct research on single-parent fathers. He then relocated to Boston, where he helped manage a shelter for homeless families.
During this time Swanson met Eliseta Kwayu, a graduate student who was the assistant to the Vice President of Tanzania. Eliseta challenged Swanson to make a difference by bringing his social work experience to his country. Two years later Swanson, his wife, Kristen, and two small children moved to Tanzania where for the next 10 years he was involved in developing a youth conference center aimed at AIDS education, leadership development, small business enterprise, English literacy training and computer competency skills.
Swanson and his family eventually returned to the states so that the children could attend a public school. They also returned with a newly adopted son, William, whose mother had passed away. Swanson felt confident that he would find a job in the corporate world because he had just completed his doctorate in leadership and had worked with an international project development team — just a few of the experiences which sharpened his leadership and management skills. However, none of these skills translated well in the corporate world. Desperate for a job, Swanson took an entry level software testing position.
After 12 years in the IT field, Swanson considered Northwestern's online MSIS program because he wanted formal training at the master's level in information technology. When searching for graduate programs he found that Northwestern's MSIS program was comprised of many students like him — professionals who had not been trained in IT, but found themselves working or planning to work in an IT department. Since starting the MSIS program, Swanson has learned and applied SQL in his daily job as a technical analyst, and is implementing foundational concepts from courses in software testing, project management, data mining, computer networks and information security.
"The SPS faculty is outstanding," he says. "The instructors have deep subject matter expertise, strong dedication to students and work at Fortune 500 companies. I also learned a lot from the online discussion, where you get more insight and support than you would in a traditional classroom. And the online flexibility meant I didn't have to worry about work days that run long."
Asked if he ever thinks about returning to Africa, Swanson's reply is quick. "Absolutely. Every day. Looking ahead, I believe the MSIS degree will create have new opportunities both in business as well as Africa-based healthcare non-profits that need advanced IT skills. I'm really happy I chose Northwestern."
Article by Linda Behzad