Pushing the Boundaries of Big Data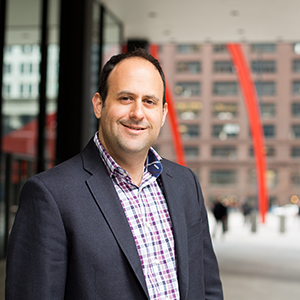 Jason Berkowitz has always wanted to push the limits. In his position at the CME Group, Berkowitz served as the director of business intelligence and data science. On average, the risk management company handles three billion contracts worth approximately $1 quadrillion annually.
In partnering with the marketing unit at the CME Group, Berkowitz has helped sponsor an internship program specifically designed to show the value of advanced analytics. The company offered internships to five Northwestern University students, including some enrolled in the School of Professional Studies's (SPS) Master of Science in Predictive Analytics degree program.
"In three months we were able to show enough value for the company to create positions for [these students]," Berkowitz said.
Since then, the company has continued to invest in advanced analytics by hiring additional data scientists.
"The CME Group continues to recruit out of the Northwestern programs as the caliber of talent and education has provided great value and promise of growth to the CME Group," Berkowitz said. "I would also like to thank the Northwestern faculty for providing us a great opportunity to build our skill sets, grow as professionals and open up new opportunities."
Knowing he wanted to grow his career in advanced analytics and big data, Berkowitz enrolled in the Predictive Analytics program in 2011 because it fit his lifestyle while allowing him to gain the skillset he needed.
Now an alumnus, he recalls his SPS experience as one of professional transformation that taught him how to anticipate what questions to ask next.
"I remember being pushed to think differently when it comes to understanding data and finding insights to take action on," he said. "I came from a technology background on the business intelligence side so this made me sit in the shoes of my direct customer. It truly made me appreciate how an information worker thinks and what their challenges are."
Recently, Berkowitz accepted a position at Amazon as a senior big data solution architect within Amazon Web Services.
"This new role, is definitely attributable to the Northwestern program, as I probably would not have even gotten the interview without it," he said.
Berkowitz now helps organizations understand best practices and implement advanced analytics in Amazon's cloud big data offerings. This includes how to migrate existing workloads to the cloud for big data, business intelligence, advanced analytics and machine learning.
When Berkowitz isn't working hard to break down big data, he's rooting for Boston sports teams and spending time with his wife and two young children.
"I have a young family and it can be challenging to find opportunities to be a continual learner, stay on the cutting edge while maintaining a consistent work life balance," he said. "This program allowed me to do this and I am grateful for that opportunity."