Enhancing Research Portfolio Through the Study of Regulatory Compliance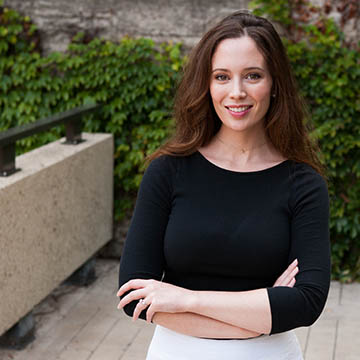 When the Ann & Robert H. Lurie Children's Hospital of Chicago needed a research study coordinator, it contacted a DePaul University professor to see if he knew any students who might fit the bill. Without hesitation, he gave them Brynnan Foster's name. While still only an undergraduate, Foster had worked with the professor as a research assistant on an HIV/AIDS intervention research project as well as another professor's behavioral psychology study. Her experience in these roles sparked her interest in clinical research. Foster later completed a Master of Science in Regulatory Compliance (MSRC) degree (formerly the Master of Science in Quality Assurance and Regulatory Compliance degree) at Northwestern University School of Professional Studies and landed a position as a clinical research specialist at Fresenius Kabi, a global healthcare technology company.
Foster discovered the MSRC program almost by chance. Her experiences at Lurie drew her to the role of physician assistant, and while she was completing some post-baccalaureate requirements at Northwestern, she discovered that the MRSC program was a better fit for her interest and skills.
"I hadn't seen anything like it offered anywhere, although I didn't really know what to look for," she says. "But something clicked, and in the medical device courses I began to really find my focus."
Courses like medical device regulation, clinical trials and biostatistics provided foundational knowledge for some of her current responsibilities, such as writing protocols for clinical trials and submitting documentation to the FDA to get products approved for market.
"The program helped me to hit the ground running when I accepted my current position," she says. "There's almost no responsibility I have now that I didn't first encounter in the MSRC program."
The MSRC program helped Foster in another way: the thesis requirement allowed her to further explore and document the important research she had completed at Lurie. She had observed that physicians were using a certain drug "off label" — a perfectly acceptable practice — to treat children with sickle cell anemia. Foster wondered if consistently tracking and sharing the outcomes might lead to improvement in care, and Lurie ultimately presented her conclusions to the physicians to discuss implementation of the findings. Foster's thesis work also helped prepare her for a project she's currently working on — therapeutic apheresis procedures to treat patients with sickle cell disease.
Article by Linda Behzad