SPS Alum Sherry Joseph Wins National Law Review Writing Competition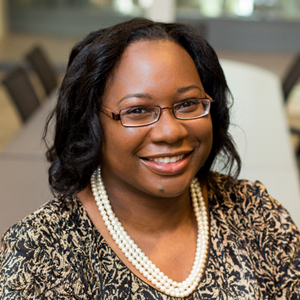 Northwestern University School of Professional Studies alum Sherry H. Joseph recently won the National Law Review's law student writing competition.  Currently a third-year student at DePaul University College of Law, Joseph beat out hundreds of submissions from around the country with her article on the efficacy of Chicago's plastic bag ordinance.
However, there was a time when law school was just a distant dream for Joseph. Joseph went straight from high school to working in the pharmaceutical industry, and at just 23 years old she was poised to become a district manager for a major drugstore chain. But there were nagging questions: was this really what she wanted to do? How could she make a change without a bachelor's degree?
"In high school I was voted 'most likely to become an attorney,'" Joseph recalls. "And I decided it was time to pursue my dream."
At first Joseph enrolled in a paralegal program, and after finding a position she would often hear that she should "go to law school." She noticed a billboard for Northwestern School of Professional Studies and decided to take that important first step.
Joseph, an organization behavior major, earned a bachelor's degree in 2014, with the help of an Osher Foundation scholarship and the support of her adoptive mother, her employer, and many SPS professors.  She studied leadership, change management, and the need for agility in organizations — knowledge and skills critical to any field, including law.
"It was the best decision of my life," says Joseph. "I was in a nurturing environment. I met some of my best friends there, people who went on to great positions and formed a solid network. My instructors were incredibly supportive — Dr. Steven Andes would even hold weekend tutoring sessions. Professors Bayard, Tepper, Harkins and Fischer were so inspirational and took learning beyond the classroom."
Joseph is on track to complete her J.D. in 2017. She is also a judicial extern, student representative for the Illinois State Bar Association and the Managing Editor of Notes and Comments for the Business & Commercial Law Journal. She credits the research and writing skills she gained at SPS with giving her an edge in law school and helping her earn the NLR award.
"When I first arrived at Northwestern I felt small and intimidated," she recalls. "I left as a different woman, ready for any challenge. My professors helped me think that way. I'm proof that you can overcome personal circumstances and adversity."