Recognizing Extraordinary Leadership: Dean Gibbons and Professor Felicity Vabulas Earn National Honors from UPCEA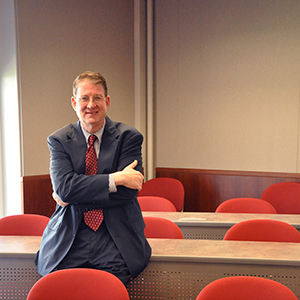 The SPS community congratulates Dean Thomas Gibbons and instructor Felicity Vabulas on their much-deserved 2016 Association Awards from UPCEA, the organization for leaders in professional, continuing, and online education.
Dean Gibbons, who has been at the helm of SPS for more than a decade, was awarded the Julius M. Nolte Award for Extraordinary Leadership — bestowed annually on an individual in recognition of extraordinary contributions to the field — and Professor Vabulas, who teaches in the Master of Arts in Public Policy and Administration program, was awarded an Excellence in Teaching Award for outstanding teaching, course development, and student mentorship.
Under Dean Gibbons's leadership, SPS has expanded from a school primarily focused on providing working adults with an undergraduate education to one with a dozen graduate programs, myriad professional development and post-graduate certificates, and a vast international reach. Beyond SPS, Dean Gibbons has shown extraordinary leadership in the industry, serving as a former president of UPCEA and, more recently, the editor of the new online journal published by UPCEA, UNBOUND: Reinventing Higher Education. He led a diverse editorial team, made up of continuing and professional education professionals from institutions across the country, during the long process of reconceiving and redesigning the journal to better reflect the needs of a twenty-first century audience of industry professionals. At SPS, we could not be more proud of his role shaping the journal, the journal's impact on the industry, and his leadership throughout the industry over the past decade. (UNBOUND can be accessed at unbound.upcea.edu.)
Felicity Vabulas is a political scientist whose research examines international organizations and law, US foreign policy, and international political economy. She holds a PhD from the University of Chicago Harris School of Public Policy, where she is currently a post-doctoral fellow. At SPS, she teaches Intergovernmental Relations, International Institutions, and Research Methods in the MPPA program. She's an enthusiastic, engaging presence in the MPPA program, and her instruction engages students in both online and Chicago-based courses in in-depth exploration of policy problems that affect the world around us right now.   
UPCEA is based in Washington, D.C., and serves as the leading professional organization for the continuing educational field. It was founded in 1915, and its membership is made up of more than 400 of the country's schools of professional and continuing education; Dean Gibbons and Professor Vabulas will be honored at the organization's 101st annual conference on April 8 in San Diego. Please join us in extending a hearty congratulations to our two colleagues!