Information Design Faculty Member Creates Art in Many Forms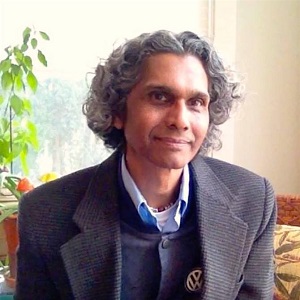 Ignatius Valentine Aloysius is a multitalented artist. He's a graphic designer, songwriter, lead guitarist in a local hard rock band, and budding novelist, with several sections of his latest manuscript already appearing in publications such as Third Coast Review and The Rumpus.
Additionally, he's an educator, serving on the faculty for Northwestern University's Master of Science in Information Design and Strategy (IDS) program. He also teaches English composition and fiction writing at Harold Washington College.
His career as an academic sprung forward at Northwestern, where he won a Distinguished Thesis Award in Fiction after graduating with a Master of Fine Arts in Creative Writing (MFA) degree.
"I plowed straight through the program without a break," Ignatius said. During that time, he drafted a slew of short stories and completed a novel manuscript for his thesis. That might seem like a whirlwind schedule, but Ignatius found the robust coursework of the MFA program kept him on track.
"The rigor of the program reinforced my sense of discipline and time management. It put me on the rails day and night, and being so focused helped me pay close attention to how my writing developed over time."
Ignatius initially applied to a handful of MFA programs across the country, but decided on Northwestern because it balanced with his busy professional life and provided a distinct writing community.
He noted, "Northwestern's incomparable and acclaimed creative writing faculty sets the MFA program apart. There's also the program's community that matters, and it mattered to me a great deal."
Since the MFA is a terminal degree, Ignatius was able to transition into a faculty position. He explained, "The most immediate advantage of the MFA degree is that it put me in a different teaching bracket, as I am able to engage students at graduate, undergraduate, and community college levels. Many fellowship applications require the degree, so there's that too."
As for teaching at his alma mater, Ignatius elaborated, "It's an honor to be invited to teach graduate students in the IDS program at Northwestern. That says something about the value and influence of the MFA Creative Writing program here, which is definitely one of a kind…I knew I'd be a good fit at NU because of my love for the arts and writing."
While an MFA student at Northwestern, Ignatius saw many artistic accomplishments as well. He was an interdisciplinary Ragdale Foundation resident, worked on the University's prestigious literary journal, TriQuarterly, and became a finalist for the Clair Rosen and Samuel Edes Foundation Prize for Emerging Artists.
Today, he finds his art allows him to be more active in the Chicago community and beyond. He added, "Be a literary citizen and do your part to support the community; you'll see, it gives back in more ways than you can imagine."