Poet Becomes First Multidisciplinary SPS MFA Student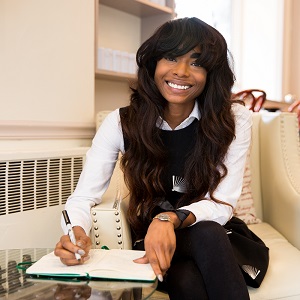 Tara Stringfellow writes to resist. A well-published poet, her artistic spirit is driven by an activist's passion to examine race, gender, and class in her work. She strives to bring a voice to underrepresented and marginalized groups.
Stringfellow's love of writing also led her to reconsider her formal career path. Working as an attorney, she carved out the little free time she had to scribble down a sonnet or some free verse, but she wanted to transition to writing full-time. Now working on a novel, she has become the first hybrid candidate in the Master of Arts in Creative Writing (MFA) program at Northwestern.
"I think you need an MFA if you want to write full-time professionally like I do," said Stringfellow. "I had a collection of poems published before enrolling, but that's not necessarily enough to pursue certain career opportunities."
The MFA is a terminal degree, opening up educational and editorial positions for graduates that would otherwise be unavailable. Stringfellow credits Northwestern not only for reinvigorating her writing, but also for opening up the opportunity to apply for competitive creative grants and fellowships available to MFA candidates. During her time at Northwestern, Stringfellow has formed close relationships with several faculty members who have been crucial influences in honing her craft.
"Reginald Gibbons has been integral to my writing, as has poet Ed Roberson," Stringfellow notes. "With Professor Roberson, I dissected every single line of every single poem I wrote over the course of a quarter. All of those poems have been published."
That level of focus has paid off. Stringfellow is now invited to perform regularly in various Chicago poetry venues and has seen work published in Linden Avenue, Transitions Literary Journal, Jet Fuel, Apogee, and decomP. She's also been nominated by Linden Avenue for the prestigious Pushcart Prize.
Now, as she prepares to graduate in summer 2017, Stringfellow is starting to plan next steps, garnering University support to apply for a Fulbright and several PhD poetry programs abroad. With her unique combination of skills, she is seeking funding to provide assistance to Syrian and North African refugees in Sicily, using her law degree to do asylum work while she writes poems about the experience. The resulting collection of poems would ultimately serve as her dissertation.
Stringfellow further explained that Northwestern is a wonderful place to be an artist. She first earned her BA in English at the university and was surprised by the creative freedom and mentorship provided by the faculty. Returning to her alma mater, she's been inspired to cross genres and delve into writing hybrid work and literary fiction.
Stringfellow added, "I was a writer before the program, but I definitely feel like more of a professional writer now. I now know when something is good enough to be published, I have less doubt about the quality of my work."
As far as her commitment to resistance writing, she believes writing is vital in examining contemporary social and political issues, and said many of the themes in her poetry are integral to her novel, which she spends as much time drafting as possible.
"It's been my duty to just write. I think us writers really need to take the helm."