Liberal Studies Grad and NU Librarian Rises to Associate Dean at IIT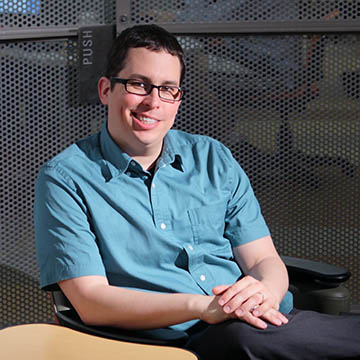 Devin Savage says he "bounced around the humanities" as an undergraduate at Indiana University, partaking of classes in sociology and religion and waiting until his senior year to declare himself a history major. Ten years later, when he thought about graduate school, he wanted to pursue those overlapping interests in depth. Savage also hoped to advance his career as an academic librarian at Northwestern University Library, where he coordinates services to help students and professors make the most of the library's digital and traditional resources.
When Savage completed the Master of Arts in Liberal Studies (MALS) program in 2009, he had satisfied both goals. Winner of the MALS Distinguished Thesis Award, Savage dug into a nuanced topic, exploring how poet and novelist Gabriele D'Annunzio mobilized followers in pre-Mussolini Italy. Savage's graduate work also helped him better understand the user's perspective in the library as he helped classmates and professors discover resources and services. Another bonus: Savage says his Northwestern degree helped him gain admission to the University of Illinois at Urbana-Champaign's master's degree program in library and information science and to win an Illinois State Library Training Grant.
"SPS has made the MALS program as flexible as possible," says Savage, who worked full time while he earned his degree. He also took advantage of opportunities to work closely with top scholars from Northwestern and beyond: thesis adviser Scott Durham, Northwestern professor of French and Italian; visiting professor and internationally known political theorist Ernesto Laclau; and professor emerita Nancy Cirillo at the University of Illinois at Chicago. "These were special opportunities for me," says Savage. "At SPS you can go as far as your interests take you."
Savage worked at the Northwestern University Library from 1999-2014 and received tuition reimbursement while working towards his MALS degree. He currently serves as the Associate Dean for Assessment and Scholarly Services at the Paul V. Galvin Library at the Illinois Institute of Technology (IIT), and teaches undergraduate courses on Industrial Culture and Fascism & Anarchy as an adjunct professor at IIT as well.