Funding a Future in Wearable Robotics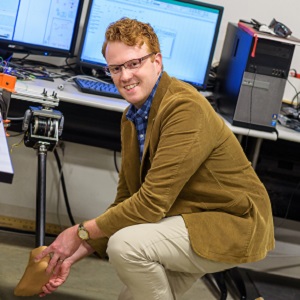 At the Locomotor Control Systems Laboratory, part of the Erik Jonsson School of Engineering and Computer Science at the University of Texas at Dallas, Dr. Robert Gregg oversees about 20 postdoctoral research staff and graduate students. The lab's mission, "to develop high-performance wearable control systems (e.g., prostheses and orthoses) to enable mobility and improve quality of life for persons with disabilities," requires a fully-engaged team with ample resources. To continue their research, Gregg and other faculty members work hard for their funding. He estimates over his tenure at Locomotor they've raised about $4 million from the National Institutes of Health (NIH), the National Science Foundation (NSF), and other organizations.
Grant proposals are no easy task, but Gregg boasts an acceptance rate of approximately 75 percent. Among those have been the 2013 NIH Director's New Innovator Award ($2.3 million over 5 years) and a $500,000 Career Award at the Scientific Interface from the Burroughs Wellcome Fund. He's also helped two of his former students write proposals that successfully led them to tenure-track faculty positions at other universities.
Gregg attributes much of his grant-writing acumen to knowledge he gathered as a postdoctoral fellow at Northwestern University in a two-day course led by Dr. Holly Falk-Krzesinski, Grantsmanship for the Research Professional. What he learned in the course, along with some help editing and reviewing assistance from Northwestern's Office of Research Development, helped Gregg secure a significant amount of his early research funding before he moved on to his current assistant professorship at UT Dallas.
"We walked through the different funding agencies, different rules for proposals, review criteria, and how to demystify the grant-writing process," Gregg said. "That was the most important thing for me, personally. As a post-doc fellow who had never written grant proposals before, I saw it as this big behemoth. It was kind of like climbing Mount Everest. I didn't know how to start or how difficult it would be, and Dr. Falk-Krzesinski broke it down. She taught us the rules of the game. It really simplified the process."
Gregg uses many of Dr. Falk-Krzesinski's tips when teaching his PhD students how to write their own grant proposals. He added, "I actually still refer back to the slides I got from that course every time I'm writing a grant proposal. They're extremely helpful when I'm in the brainstorming stage."
Gregg's passion for wearable robotics began after completing his undergraduate degree in electrical engineering at the University of California, Berkeley. He went on to earn his PhD at University of Illinois at Urbana-Champaign before becoming a postdoctoral fellow at Northwestern University and the Rehabilitation Institute of Chicago, where he worked with Northwestern's Chair and Professor of Mechanical Engineering, Dr. Kevin Lynch, Northwestern Feinberg School of Medicine Associate Dean for Hospital Academic Affairs, Dr. Todd Kuiken, and Feinberg associate professor, Dr. Levi Hargrove. Gregg chose Northwestern partly due to the national reputation of the University.
He looks back at his time in Evanston fondly. "I had a fantastic experience learning and working at Northwestern," Gregg said. "The mentoring environment is very good and the postdoc mentors I worked with were wonderful and supportive. The institutional support was overall great. All the workshops and classes offered were super helpful. Without my postdoctoral training I don't think I'd be where I am today."
Photo courtesy of UT Dallas.