Student Ambassador: Kenneth Mayer's Advice to Prospective Data Science Students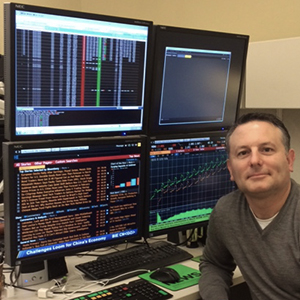 When students are considering graduate school, even the most detailed information sessions can leave myriad questions unanswered. The process can be overwhelming: attempting to gather all the necessary information, find the right program, and get a grasp on cultural fit is a daunting task — especially when those programs are offered online, a learning environment that is new to many. But for prospective students in Northwestern University's online Master of Science in Predictive Analytics program, Kenneth Mayer is here to help. He received his master's degree from the program and found it completely life-changing; he now helps guide some prospective students through the doubts and uncertainties that come with applying to graduate school as a student ambassador. Below, he answers a few questions about the predictive analytics online program itself and his experiences as a student.
What drew you to the MS in Predictive Analytics program?
I was looking for a new vocation. I finally realized at my age what I wanted to do when I grow up, and that was statistics and math. It was something that I had always had an interest in, but I never thought of combining it with my education . It finally dawned on me, why not just pursue this? Because I've always been interested in it, always reading up on it, very curious about how things are working in this field, and I always think about models. I thought to myself, "How do those come together, what are the assumptions, how are those put together?" That led me to my interest and enrollment in the program.
But one of my big concerns was that I didn't want to go back to a classroom setting again. I didn't want to have to drive to campus, park and walk, do homework at the library or be concerned with any of that. I didn't know what to expect with having a class online and pursuing a degree online, but my wife told me give it a quarter or two and figure out what I think and take it from there. I thought it was great advice. I did as she said, and I completed my degree.
What makes you so passionate about this program? And what drives you to be so involved with the MS in predictive analytics?
The program had exceeded all of my expectations. I was worried it would be structured so you watch a video and you take a quiz and that's how you obtain a degree. But it not like that at all. The learning environment was very truthful, and it was a great experience overall. I wish I could have done my undergrad or my MBA this way. I learned more than I could have imagined — more than I learned in my undergrad and my MBA combined, so I was impressed with that.
The other thing that drew me to be a student ambassador was how committed the school was to the program. I could tell from being on campus and going to distance learning weekend that they were really invested and wanted this program to succeed. It really got me excited about what was going on there.
Did you enjoy online learning?
I did. I came to the realization after my own personal research that I really enjoyed math, statistics, research, making models, and doing qualitative research, and the program is suited completely for that. Doing it online, I actually thought, over time, that it's much more of an advantage to do it online than in a classroom, and I actually prefer it for a couple reasons. For one, if you're disciplined enough, you can access the course materials when you have the time and take care of it. You don't necessarily have to be in a certain class at a certain time, so that was nice. Doing it online allows you to work around your own schedule. The other thing that I thought was interesting was that I learned a great deal from the other students in my class. I was able to network with them online. When I tell people about the program, I always tell them that when you're in a classroom setting, when you're done with class, you just want to go home. You don't really want to talk with anybody; you've had a long day, and you want it to be over. With this program, when you have a question, you can contact anybody at your leisure and they can respond to you and you can choose or discuss things from there and it's very nice.
What do you get out of helping students?
I think the main thing is the anxiety that they might have that I had at that time. I applied and I got into the program but then I got cold feet and I waited a quarter, I think, because it's such a new situation. You don't want to spend your precious time and valuable money and realize you sunk it down the drain. So I want to help students realize that you're not just going be online doing a few things here and there. There's more to the program than just being online: there are message boards where you can ask questions, you have different software packages to complete your assignments, you have access to your professors. There's so much to the program that you really don't get from a 30-minute presentation, so I want to be there for the other students to help them realize: what the program is, and what a great program they could be a part of.
What are some common student concerns, and how do you respond to those?
There are a few concerns. Off the top of my head, one of the main concerns students have is "How much time do I have to put in?" That's the one that comes up a lot. A second concern is "How do I interact with my professor?" I think what people are afraid of is asking questions and never hearing back from anybody, which isn't the case. I guess a third concern that people have is how difficult the program is. This being Northwestern, it deals with some high-level information, and I'm honest with them. I tell them they are going to work hard in this program. You will not be handed a degree from Northwestern, you are going to work hard. You want it that way because you want to know that the person who has the same degree as you has earned it and is taking that value into the marketplace with them after you graduate. You do not want a worthless degree. So I am completely honest with students when they ask about the workload and how difficult it is, because I want them to know that yes it's valuable, but you have to work hard to get it.
What have you gained from the students?
For one, I'm glad that I can make a difference for the program because I have a vested interest in seeing the program succeed. If we have talented students with strong backgrounds entering the program, that benefits everyone else. That's better for the current students, the future students, the professors, the school, and myself.
What do you love most about data science?
The field is a very interesting field, and I like the fact that once I understood how to create the models that they were teaching to me, I felt like a whole new world was opened up to me. I felt that my potential grew so much greater from being in the program. Since doing this program, I look at analysis and statistics in a different light, and it makes me so much more confident in my skills and taking them different places for future employers. Conversely, if I go out on my own, I feel that the program has given me the confidence to do whatever I would like to do. I believe that this program is not the present; it's the future. It is the future of employment, of jobs, of where businesses are going, and because of the predictive analytics program, I can be a part of that, which is very exciting.
Interview by Carlee Green