US Ambassador to Kosovo Delivers Keynote at NUCPS International School of Police Staff and Command Graduation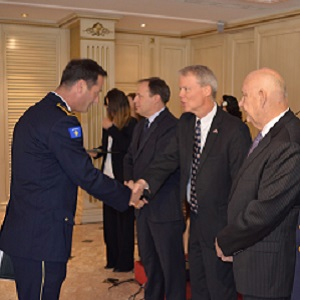 On May 12, 2017, Northwestern Center for Public Safety, a division of the School of Professional Studies, graduated 39 participants in the fifth International School of Police Staff and Command class at Pristina, Kosovo. The United States Ambassador to Kosovo, Greg Delawie, delivered a keynote address to the class, as well as an assembly of Kosovo officials and dignitaries.  
In addition to offering his congratulations, Ambassador Delawie praised the significant contribution NUCPS School of Police Staff and Command make in raising the professional level of policing in Kosovo. He specifically highlighted NUCPS as a key factor in improving relations between law enforcement agencies across Balkan nations. Furthermore, the Ambassador credited the School of Police Staff and Command for being a catalyst for Balkan law enforcement officers to develop and maintain personal networks that improve the quality of law enforcement services and lives of Balkan citizens.
Graduates of the program represented five agencies: Kosovo Police, Kosovo Academy for Public Safety, Kosovo Security Force, Police Inspectorate, and Kosovo Customs. 
Following a special graduation luncheon, Ambassador Delawie participated in presenting Certificates of Achievement to each member of the graduating class. Also participating were Kosovo Deputy Minister of Internal Affairs Valdet Hoxha, General Director of Kosovo Academy of Public Safety Ismail Smakiqi, General Director of Kosovo Customs Bahri Berisha, Deputy Director of Kosovo Police Naim Rexha, ICITAP Program Manager for Kosovo Bill Bochter, and Center for Public Safety Executive Director David Bradford.