SPS Undergraduate Student to Conduct Experiment Aboard NASA Flight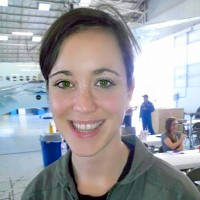 Kristen OMara Scotti, an SPS biology major set to graduate in 2015, has received approval from the National Aeronautics and Space Administration on her proposal to conduct an experiment aboard a NASA flight: "Creation of Titanium-Based Nanofoams in Reduced Gravity for Dye-Sensitized Solar Cell Production." This is the second time Scotti has won such an honor in NASA's Flight Opportunities Program.
Scotti began her undergraduate education at Harper College in 2011. While at Harper, Scotti was named a NASA Aerospace Scholar and served as an intern at the Marshall Space Flight Center in Huntsville, Alabama. She proposed an experiment for NASA's Reduced Gravity Student Flight program and put together a team — the only team from a community college selected for the program that year.
Scotti and her team boarded a NASA parabolic flight out of Houston to conduct that experiment in June 2012. By that time she was a Northwestern student, having transferred to SPS in January of that year with the support of an undergraduate transfer scholarship through the Jack Kent Cooke Foundation.