Pre-Medicine Student Reflects on SPS Experience on Blog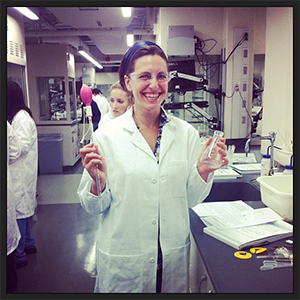 Professional actors often find themselves in unexpected circumstances to supplement their income, and Maura Clement was no different. Just a few years after graduating from a prestigious acting program, she was spending her days working in a mock exam room at Northwestern University's Feinberg School of Medicine, face-to-face with nervous medical students attempting to diagnose whatever illness she had been assigned to mimic for their training. But what started as a temporary gig to pay the bills blossomed into an unlikely career change for Maura, who, during her time at Northwestern, began to imagine a life outside of the arts.
"I became really interested in medicine — I had never considered it before but I loved being in the room with the students," she said. But when she decided to take the plunge and pursue a career in medicine, she knew that her educational background — a BFA in acting with a minor in Middle Eastern studies — was probably not enough to make her a strong candidate for medical school admissions. She would need more science courses, and strong lab experience.
But where does someone with little to no science background start when preparing to apply for medical school?  "No one in my family was ever in medicine, and I had no context for what a medical career was like," says Maura. "The whole process literally started with me Googling 'What do you need to go to medical school?'" What she found was that she could take a few core courses a la carte at a university and hope that would be enough, or enroll in a post-baccalaureate program specifically designed for career changers looking to enter the medical field.
Maura eventually decided to enroll in Northwestern University School of Professional Studies's pre-medicine post-baccalaureate program, a structured certificate program that provides adult students without strong science backgrounds with the in-depth education they need to apply to medical and related professional schools in 12-, 15- or 21-month part-time tracks. There, Maura was surrounded by a cohort of other like-minded career changers. "Our class had people with backgrounds in theater, biology, computer engineering, social work and the liberal arts," she said.  "There were about 25 or 30 of us in the cohort, and most were sacrificing something to be there; everyone was very intentional and supportive and worked really hard." Along with completing the academic requirements of the program, the students also received a host of resources to help boost their applications, like individual advising appointments and workshops on the medical school application process.
Maura had such a positive experience in the program (she finished her coursework in June, and is currently submitting applications to medical school) that she was inspired to write a Q&A for prospective post-baccalaureate students on her personal blog about the process. "I wanted to share my advice so people could get a realistic picture of what the process is like," she said. "Medical schools need nontraditional students as well as pre-medicine graduates; they need people who will be compassionate and compelling doctors, not just 'perfect' applicants."
So what was the experience really like? To hear first-hand from the alumna herself, check out the first installment on her blog, and look for another update shortly. 
Article by Lesley Gibson