MPPA Student Works for the Public Good at the EPA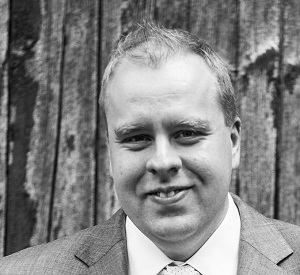 Bradley Grams dedicates a lot of his time to public policy. On top of being a federal chemical programs coordinator at the U.S. Environmental Protection Agency (EPA) and a Master of Arts in Public Policy & Administration (MPPA) student at Northwestern, Grams also gives a good chunk of his free time to supporting the Northwestern University Student Advisory Board and serving on the board of directors for The University of Chicago Public Interest Program (UCPIP), which connects recent college graduates with interests in public policy, non-profits, or corporate social responsibility with extendable fellowships and full-time jobs in those respective sectors.
If that all sounds a bit stuffy, Grams offsets his academic and professional obligations with comic book collecting, a penchant for international film, and a love for postmodern and contemporary art. With all that in mind, it's safe to say Brad's a busy guy. This is one reason, after considering several programs, he decided to pursue his master's degree at Northwestern School of Professional Studies.
"I love the program's flexibility and real-world experience," Grams said. "All of my professors are in academia and do academic research, but they also have experience in current public appointments which helps bring the theory to practice. They bring different lenses to public policy."
Grams heard success stories of the SPS MPPA program from colleagues at the EPA. He now credits the faculty's wide range of policy experience for helping shape how he does his job today. Grams has risen the ranks at the agency over the course of his career, but notes the MPPA program has helped improve his professional writing abilities and broadened his policy knowledge so that he approaches projects in new ways.
"I've already experienced career growth," said Grams. "I've built my skills in areas I hadn't previously considered in the workplace. Having professors from both local governments and federal agencies, seeing how other people operate in public policy, really improves your own policy."
After graduating with a BS in Chemistry and BA in Environmental Studies from the University of Chicago, Grams went on to begin his career in the EPA as an enforcement officer, ensuring organizations met hazardous wastes regulations. He earned several promotions at the agency and now coordinates chemical safety policy development and field operations for the EPA across the country, focusing on global trade and environmental policy under the Toxic Substances Control Act as amended by the Frank R. Lautenberg Chemical Safety for the 21st Century Act.
Grams doesn't take this responsibility lightly. He's learned to think of plans A, B, and C and takes an active approach to policy. As he continues his studies, he's grateful to learn from experts in various areas so that his own work is comprehensive.
It helps that Grams is constantly learning and volunteering, and his experiences at the EPA have lead him to realize how he can more directly contribute to positive change. With his specific skillset, Grams is helping ensure the safety of chemicals in the global marketplace, and developing policies that will lead to a greener, more sustainable future for all Americans.