Jeff Budzien Plans for a Career in Athletics on and off the Field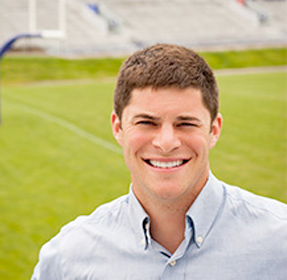 When Jeff Budzien was in high school in suburban Milwaukee, football recruiters from across the nation knocked on his door trying to lure the talented placekicker to their athletics programs. Coaches from Northwestern succeeded by offering the teenager something beyond an undergraduate football scholarship. "In their recruiting pitch they talked about the opportunity to earn a master's degree in sports administration at Northwestern," says Budzien. With that, the coaches scored.
Northwestern University School of Professional Studies's Master of Arts in Sports Administration (MSA) program meshed nicely with Budzien's longtime interests in business and sports and built on his academic and athletic success as an undergraduate at Northwestern. An economics major, Budzien graduated in 2013 with a high GPA and four Academic All–Big 10 awards as well as being named a first team All-American.
Budzien was also one of 11 Division I players nationally to be named to the Allstate Good Works Team in 2013 for his outstanding community service, which included chairing the coaching committee for Northwestern's Special Olympics. "I really fell in love with volunteering for the Special Olympics," says Budzien. "The amount of work that goes into being a college athlete is daunting. I noticed that those involved in Special Olympics were the happiest people around."
The transition to graduate school was seamless for Budzien, who completed his MSA degree in one year. As an undergraduate he had taken a class in sports marketing and interned with the Chicago Cubs, exploring corporate partnerships. In the MSA program he followed through on those experiences with advanced classes in financial accounting in professional sports — "I love numbers and finance and sports" — and sales management.
"Everything in the MSA is practical," says Budzien. "The professors work in the field and talk about current events in the industry." He also found his professors to be accommodating about students' work schedules. "I had to miss a class to try out for Tampa, but I did the work ahead of time," says Budzien, who tried out for the Tampa Bay Buccaneers and seven other pro football teams for the 2014 NFL Draft and eventually signed as a free agent with the Jacksonville Jaguars.
Facing the excitement — and the uncertainties — of a pro career, Budzien knows that his master's degree will serve him well. "I learned skills in accounting and relationship management that I'd use in any field. The MSA is a perfect incubator for finding what you're passionate about."