Things You Should Know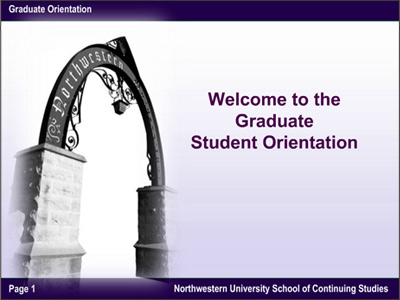 To help you adjust to student life at Northwestern University, the Student Services Department of the School of Professional Studies has developed Online Orientation Sessions for all new students. We have provided the Graduate Online Orientation video for you to get started. For program-specific tutorials (distance learning students), see the links below. 
Technical Orientations for Distance Learning Students
Graduate students enrolled in Distance Learning programs should refer to the following Adobe Connect presentations for an orientation to the program.
Be sure to check the system requirements before you begin your courses.
WildCARD: Northwestern Student ID
Northwestern Students should pick up a WildCARD for access to on-campus services. Visit one of the office below to get a WildCARD:
WildCARD (Evanston)
Norris University Center
Underground Level
1999 Campus Drive
Evanston, Illinois 60208
847-467-6843
WildCARD (Chicago)
Abbott Hall, room 100
710 North Lake Shore Drive
Chicago, Illinois 60611
312-503-0548
Access the WildCARD Office online.