ABOUT OLLI
Founded in 1987, the Osher Lifelong Learning Institute (OLLI) is a vibrant member-driven program of Northwestern University School of Professional Studies. Members of our cooperative learning community generate an exciting and intellectually challenging curriculum of more than 90 study groups per semester, serving over 1200 adults on the Evanston and Chicago campuses. Composed of seasoned learners from all walks of life, OLLI members pursue learning for pure pleasure: there are no tests and no grades. OLLI's motto is, "Curiosity Never Retires," and the OLLI experience proves it!
OLLI is committed to the concept that older adults learn best when they are active in their own learning process. Using our method of peer learning, members are enthusiastically engaged in proposing topics, facilitating study groups as coordinators or volunteering to be weekly discussion leaders. Beyond the study groups, members contribute in many ways to strengthen and enrich OLLI, serving on the Advisory Council, becoming a committee team member or volunteering at special events and programs.
While OLLI offers its members intellectual stimulation it also offers pleasurable opportunities to be had beyond the classroom. The OLLI experience is enriched by special guest lectures, One Book One OLLI, Theater Day, OLLI Eats Out, HOLLIday parties, and much more.  
Formerly the Institute for Learning in Retirement, the program was renamed the Osher Lifelong Learning Institute in 2005 in recognition of generous support from the Bernard Osher Foundation. The Osher Foundation supports a national network of Lifelong Learning Institutes. Northwestern's program is proud to be one of the 120 OLLIs in the U.S. Join our OLLI community for a variety of learning experiences, for the pleasure of learning and the spirit of friendship!  LEARN MORE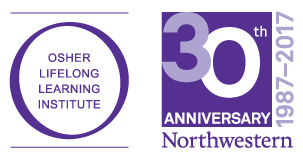 Register to Attend an Information Session
Sign Up for Our Newsletter

CLICK HERE to receive our weekly email newsletter that describes current and upcoming events at OLLI.