Osher Lifelong Learning Institute
A vibrant educational and social environment serving 900 seasoned learners on Northwestern's Evanston and Chicago campuses. A stimulating, participatory learning community with no exams and no grades, our members range in age from their 50s to 90s, and people of all backgrounds are welcome. A comprehensive curriculum of peer-led study groups spans subjects from literature and history to science, politics, current affairs, philosophy and the arts. Learning takes a lifetime — and we are having the time of our lives!
Register now for OLLI's Spring Semester 2015 — new members are welcome!
OLLI's  14-week spring session runs from Monday, March 2 to Friday, June 5, 2015. To review OLLI's spring catalog and registration procedures click here. To request a copy of the spring catalog be mailed to you click here.
Spring registration closes on Thursday, February 19th.
OLLI's 2014–2015 Academic Calendar
• Fall Semester: September 8–December 12, 2014
• Winter Session: Tuesday, January 20–Monday, February 16, 2015
• Spring Semester: March 2–June 5, 2015
• Summer Session: July 6–August  6, 2015
OLLI and Northwestern University will be closed on the following days:
Monday, September 1, 2014
Thursday, November 27 and Friday, November 28, 2014
Monday, December 24 and Tuesday, December 25, 2014
Wednesday, December 31, 2014 and Thursday, January 1, 2015
Monday, January 19, 2015
Monday, May 25, 2015
Friday, July 3, 2015
Considering OLLI? Attend an Information Session
Evanston:
Tuesday, February 3, 2015
10–11:30 a.m.
1840 Oak Ave., Suite 200S


Chicago:
Wednesday, February 4, 2015
10–11:30 a.m. Wieboldt Hall, Room 507
339 E. Chicago Ave.


Call OLLI to reserve a seat!
Evanston: Lisa D'Angelo, 847-492-8204
Chicago: Paula Foster, 312-503-7881
OLLI News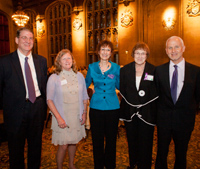 OLLI Commemorates 25 Years at Northwestern

Osher Lifelong Learning Institute at Northwestern University (OLLI) celebrates 25 years of providing a dynamic learning community for adults over 50 on Northwestern's Chicago and Evanston campuses. Inspired by Northwestern trustee Newton Minow, OLLI began as the Institute for Learning in Retirement (ILR), a part of Northwestern University School of Professional Studies. It was thought a peer-led program — not designed around academic credit, but for the pure joy of learning, would be a good fit for Northwestern and...  [more]