Post-baccalaureate Program Area
Information for New Students
Congratulations and welcome to the School of Professional Studies. 
Begin your journey here by viewing the Post-baccalaureate Online Orientation and reading the next steps below.
Online Orientation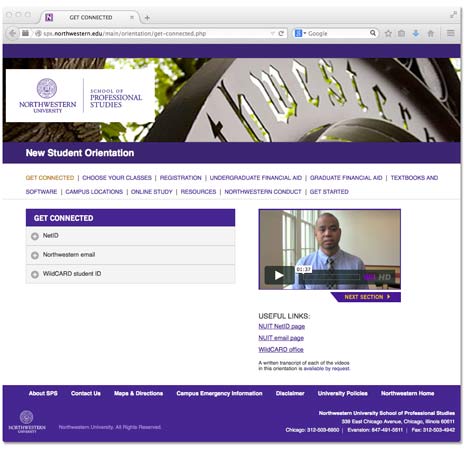 To help you get started at Northwestern University, the Student Services Department of Northwestern University School of Professional Studies has developed an Online Orientation for all new students.
Next Steps
1. Academic Advising
Newly admitted students should schedule an appointment with an SPS academic adviser to discuss course selection and registration procedures prior to registering for SPS courses.
2. Course Registration
After meeting with an adviser, new students should register for class using CAESAR. Included in your acceptance packet was a tip sheet for first-time registration on CAESAR.
3. WildCARD
New students should visit Norris Center in Evanston or Abbott Hall in Chicago to obtain a Northwestern student ID or WildCARD. This will give you access to university services such as libraries and shuttles. Visit the Northwestern University Services Office for a complete list of benefits.