Program Overview
Predictive Business Analytics Professional Development Certificate (Delhi, India)
Rapid advancements in the field of predictive analytics are providing professionals in myriad industries with the ability to improve decision-making and increase return on investment in unprecedented ways. New technologies and infrastructures have made it easier to process and store vast amounts of data, while social media, advanced data capture technologies and increasing interconnectivity have established "big data" as a powerful — and indispensable — force  in the business world. Organizations of all sizes can now gather and analyze vast amounts of information and harnessing those data presents significant opportunities in all facets of the business world, as analytics experts can now wield the power of data to affect results in everything from improving the customer experience to enhancing business efficiencies.
Skilled predictive analytics professionals are uniquely qualified to propel big data strategies in myriad industries and are in exceptionally high demand in today's workforce.
Be a part of this data revolution and earn your certificate in Predictive Business Analytics. New cohorts forming now.
*Note: this program is based in India. To learn more about our Chicago-based Predictive Business Analytics program, please click here.
Analyzing Business Data for Competitive Advantage
The new race in business is how to turn information into powerful and actionable business insights – and quickly. The opportunities and competitive advantages are tremendous. The combination of big data and analytical understanding redefines how organizations think and conduct business.
Examples of business analytics include:
How does Amazon.com recommend products?
How do airlines dynamically change their prices?
How does a credit card company identify fraudulent use of a card?
Curriculum
This certificate program, offered through a partnership between the Bridge School of Management and Northwestern University School of Professional Studies, gives students a comprehensive and practical understanding of the predictive analytics process to harness the power of big data and analytics and gain valuable business insights applicable across a wide range of industries. It is suitable for fresh undergraduates or career changers who have little prior statistics or analytics experience. This program is intended for people who are using--or wish to use--predictive analytics at a variety of levels and working in industries such as financial services, banking, insurance, marketing, health care, logistics, e-commerce and many others. The program will be of great benefit to students who wish to distinguish themselves across a broad range of employment opportunities.
Program Goals
Upon completion of the program, students will be able to:     
Apply analytics tools to real-world business contexts for improved decision-making techniques
Analyze the strengths and limitations of analytics and predictive modeling techniques for different business applications and varying data conditions
Acquire hands-on experience working with leading statistical tools and software packages (such as R) in predictive modelling and the visual analysis of results
Effectively communicate the actionable insights stemming from analytical work to multiple stakeholders
Strategically navigate technology tools and trends to solve big data and analytics problems
Manage data strategies and analytical projects
Articulate the value of analytics as an integral part of an organization's decision-making process
Certificate Requirements
To earn a Certificate in Predictive Business Analytics
Students must complete five (5) core courses:
Foundations in Statistics (4 wks)*
Introduction to Business Analytics (8 wks)
Modeling Methods (8 wks)
Advanced Modeling Methods (8 wks)
Analytics Communication and Management (8 wks)
*Students may test out of this module.
At earn an additional Advanced Certificate in a specialized area of study
Students may complete any of the elective courses. Students may complete as many as they wish to earn separate certificates.  Each certificate is priced at .75 lakhs
Risk Management
Marketing Analytics
Courses are delivered online with supplemental on-ground, face-to-face weekly sessions. The online content is taught by Northwestern University faculty and includes lecture videos, discussion boards, multimedia exercises, reading and problem-solving activities. The on-ground, face-to-face weekly sessions are facilitated by Bridge faculty and include supplemental lectures, discussions, in-class activities, and designated time to work on group projects.
Educational Partner: Bridge School of Management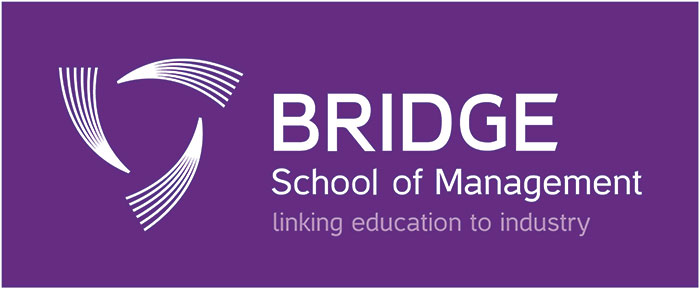 Northwestern University School of Professional Studies is proud to partner with the Bridge School of Management. The Bridge School of Management addresses India's "education-employment mismatch" by equipping working professionals with skills and practical knowledge of real business value for a global workplace.