NUCPS Provides International Crash Investigation Courses
By Timothy Schoolmaster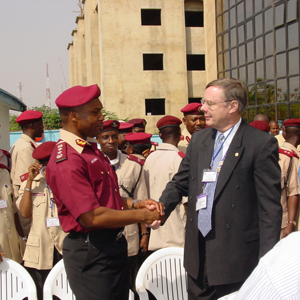 Thousands of students have attended Crash Investigation and Reconstruction courses on Northwestern's Evanston Campus in the more than 80 years since the Center for Public Safety was founded as the Traffic Institute in 1936. Indeed, it was a series of accident investigation and prevention courses pioneered by Evanston Police Lt. Franklin Kreml during the late 1920s and early 1930s that led the Automobile Manufacturer's Association and Northwestern University to jointly fund "a permanent center for instruction of traffic officers from all parts of the country and accident prevention research" in 1936.
After devising and administering traffic safety plans in Evanston, based on solid investigative techniques and research, Kreml and his successful programs were in considerable demand. Kreml was loaned out to Purdue University and such cities as Syracuse, Detroit, Memphis and Milwaukee to establish similar programs combatting local traffic fatalities.
In addition to the "traffic officers" originally targeted, today's crash investigation courses appeal to a significantly wider market segment, including automotive and traffic engineers, private investigators, reconstructionists, fleet safety directors, military police, insurance and claims investigators, public transportation agency investigators, doctors, chiropractors and attorneys. Little did Kreml know that the crash related programs we now offer in "all parts of the country" would blossom into overseas offerings, which started to gain traction in 1999, the year after Kreml died at age 91.
Singapore, Brazil, Qatar, UAE, Botswana, Nigeria, South Africa—where to next?
Economics is a primary driver of CPS's globetrotting offerings. Many rapidly developing countries, especially in Africa and the Middle East, have come to consider vehicular traffic fatalities and injuries as major public health issues. While some countries have sent students for training in Evanston, airfare, meals, tuition and accommodations can quickly drain their limited budgets. A strong U.S. dollar can increase the cost of the two- to ten-week trip by 25%. But, for what a foreign client spends to send two students to NUCPS for training, we can send two instructors overseas to train up to 40 students. That math, plus CPS's growing international reputation, has driven the demand.
Vincent Butale, then an administrator  at the Botswana Motor Vehicle Insurance Fund, came to Evanston in 1995 and took just about every crash course offered. At the time, I could not have found Botswana on a world map to save my life. Butale was convinced that his fund was paying out spurious claims in part because the police and his investigators were doing a poor or non-existent job of investigating crashes, mostly due to lack of proper training. His vision, coupled with government grants and a partnership with the Botswana Police Service, led to CPS instructors taking five trips to Botswana from 1999 to 2015. That model led to training requests from Nigeria and more recently to three course offerings in South Africa. 
What are some of the overseas issues that you don't have to deal with on campus? (Admittedly a partial list)
Hotel living up to eight weeks, malaria medicine, driving on the left side of the road, long power outages (sometimes four plus hours a day—not only does your projector not work, but you have to be resourceful in a classroom that can reach 95 degrees), long airplane rides (about 21 hours to Johannesburg), living eight time zones away. Skype and email have helped a lot (in 1999, a 20-minute phone call home cost about $100). One-week courses are the worst—you're just starting to sleep through the night when it's time to go back home. Figure two straight weeks of jet lag for a one-week course. Dealing with FedEx when your materials don't arrive on time. English proficiency. For the few courses offered with a translator, double the class time. When students speak and understand English as their official language but might speak Setswana, Zulu, Xhosa, Hausa, Yoruba or Igbo at home, there is still a lot of translation going on in their heads, so allow extra time. Exchanging money (credit cards are catching on but are not as ubiquitous as they are in the U.S. Due to local fraud, some cards are not accepted at all). Travel angst. The 1999 trip to Botswana was just over a year after the U.S. embassy bombings in Tanzania and Kenya; CPS had people on the ground in the UAE on September 11 and, more recently, overseas at the time of the November attacks in Paris. 
What are some of the positive takeaways from these trips?
Getting to see ourselves through our students' eyes. New friends, new customs, new foods. General sightseeing, long weekend photo safaris on the cheap. Seeing parts of the world I never dreamed I'd see. Getting to learn foreign problems and situations, and offer constructive advice based on previous teaching and experience. Helping clients achieve their goals in reducing road carnage. Our hosts and students have all been incredibly friendly and welcoming. Very special: an invite for dinner in a local home. Worth the work: learn a few phrases in the local language; they really appreciate it.
Timothy Schoolmaster (SPSC 147) of Evanston has been a lecturer for NUCPS Crash Investigation/Reconstruction courses since 1983. He has set foot in 24 countries since 2006, some of them multiple times.