Policing Paradigm
By David Bradford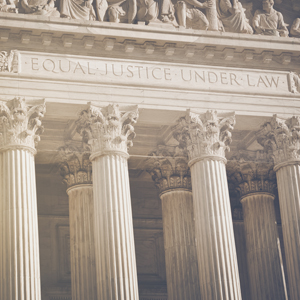 All things are lawful for me but all things are not expedient; all things are lawful for me, but all things edify not.  
Apostle Paul, I Corinthians, 10:23 (KJV)
At the Northwestern Journal of Law and Social Policy's ninth symposium, "Police in America: Ensuring Accountability and Mitigating Racial Bias," Paul Butler presented an enlightened and objective analysis of current race, crime, and police accountability issues. Butler is a law professor at the Georgetown University Law Center, a former prosecutor at the US Department of Justice, and the author of the Harry Chapin Media award-winning book, "Let's Get Free: A Hip-Hop Theory of Justice." In his keynote address, he cited several high profile incidents of citizen vs. police contact beginning with Ferguson, Mo., where deadly force deployed by police resulted in a citizen's death. These highly publicized incidents of force by police officers across the country have prompted historic levels of scrutiny and demands for change across the country.
Butler observed that the issue in American policing is not police misconduct, but rather legal police conduct. From a legal perspective, the police in these instances acted in a lawful manner; thus, there was no injustice committed or criminal penalty to exact. Where there was probable cause that officers acted outside their legal authority, such as the Freddie Gray incident in Baltimore, prosecutors filed criminal charges. Despite the pursuit of justice by authorities, the public clamored for more and expressed their dissatisfaction in sometimes-violent protests.
Demonstrations of extreme displeasure with police are not new in our society. In the 1960s public disturbances erupted, centered on police-community relations. Journalists, academics, politicians and community groups said police were alienated from the communities they served, claiming the professional model of policing, focused solely on reducing crime, was inadequate. As the model was implemented more broadly, the uniform crime rate had become the benchmark to gauge success. High crime rates of the sixties, especially for violent crime, coupled with civil unrest and disobedience, drove policing to transition from the professional model to community policing.
The transition began with the concept of team policing. Teams of officers assigned to specific areas were responsible for knowing the neighborhood, its people and its problems. The traditional police uniform was replaced with blazers and dress pants. Long-term problem solving was emphasized, with less attention paid to response, investigate, arrest and prosecute methodology Internally, team policing intruded on lines of authority, with patrol officers becoming involved in areas that had been the province of detectives and specialists. Team policing, however, had little immediate effect on crime. Rising crime rates, discord from blurred lines of authority, and the territorial focus on individual beats instead of the whole community soon led to dissatisfaction with the concept from both civilians and police leadership. The federal government responded with new legislation.
With the passage of the Violent Crime Control and Law Enforcement Act of 1994 (Violent Crime Control Act), Pub.L. 103-322, Sept. 13, 1994, 108 Stat. 1796, the federal government began a massive commitment to the philosophy of community policing, providing $8.8 billion to fund local law enforcement agencies as they developed and enhanced their community policing capabilities. To assist in this effort, the Justice Department created the Office of Community Oriented Policing Services (COPS) to develop, administer and supervise new grant programs. By 2002, COPS grants had allowed law enforcement agencies to hire more than 116,000 community police officers, purchase crime-fighting technology and support innovations in policing. More than 12,000 agencies have received COPS funding, and the office has trained more than 130,000 officers and community members through a network of Regional Community Policing Institutes and the Community Policing Consortium. If a policing model's success is measured by reducing the crime rate, community policing must be judged as very successful. In 2014, the violent crime rate was the lowest it's been since 1970. 
As policing models have changed, the benchmark for determining effective and successful policing continues to be crime prevention and lower crime rates. Proponents of the crime rate benchmark often quote Sir Robert Peel: "The test of police efficiency is the absence of crime and disorder." From an enforcement perspective, policing services in our country have never been more professional or successful. Yet, as in the sixties, we once again find our society engaged in conflict over police behavior, resulting in disobedience of the law, and sometimes violence. If police are doing as great a job as crime rates say, why has the public declared a new "crisis of confidence" in American policing?
The President's Task Force on Police Community Relations, commissioned by President Obama to answer this question, discovered what many already knew. There is no one answer to this multifaceted problem, and the solution won't be found entirely within police departments. Police relations with citizens is a societal issue involving all levels of the community. However, the policing profession has accepted the challenge to initiate societal change.
Police leaders across the country, such as Milwaukee Police Chief Edward Flynn and Philadelphia Police Commissioner Charles Ramsey, are leading the way toward establishing greater transparency, accountability and community collaboration by incorporating principles of procedural justice and working to eliminate implicit bias from their agencies. Yet these efforts are just the beginning. The real change that will make a difference must begin within the heart and mind of each officer on the street and with the discretion the law empowers him to exercise.
Every officer swears an oath upon being commissioned, and while the wording of that oath varies, upholding and defending the Constitution is common to all. This oath demands officers look beyond enforcing the letter of law to protecting the principles it espouses. President Abraham Lincoln argued that the Declaration of Independence is a statement of principles through which the Constitution should be interpreted. Constitutional scholars through the decades have supported and taught this philosophy. Edwin Meese III writes, in the publication, The Meaning of the Constitution,
   "Part of the reason for the Constitution's enduring strength is that it is the complement of the Declaration of Independence. The Declaration provided the philosophical basis for a government that exercises legitimate power by "the consent of the governed," and it defined the conditions of a free people, whose rights and liberty are derived from their Creator. The Constitution delineated the structure of government and rules for its operation, consistent with the creed of human liberty proclaimed in the Declaration."
We must realize that our success as police offers is measured by how effectively we defend and uphold the principles of liberty, equality and justice in our daily interaction with all people, even those against whom we must take enforcement action. The law gives us great discretion to accomplish this task, but we must remember that while police behavior may be legal, it may not necessarily be in the best interest of the community. We should be aware of Sir Robert Peel's seventh principle: "Police, at all times, should maintain a relationship with the public that gives reality to the historic tradition that the police are the public and the public are the police; the police being only members of the public who are paid to give full-time attention to duties which are incumbent on every citizen in the interests of community welfare and existence."