NUCPS "Crashes" into Real Life
By Adam Hyde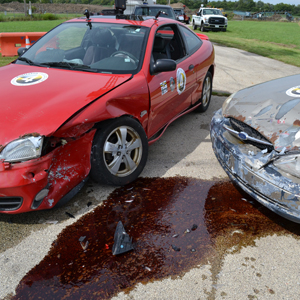 Scientific crash investigation has been always been part of the Northwestern University Center for Public Safety. Since its inception, the NUCPS has offered comprehensive training courses, from basic crash investigation to advanced crash reconstruction programs. Recently, over 100 NUCPS alumni put concepts learned in the classroom to a real-life test during a simulated crash-testing event. More than twenty five state's attorneys and others in the crash investigation field were on hand to help students prepare for their future work.
On abandoned roadways in northern Lake County, participants witnessed several live crash tests during the multi-day event. Tests included a vehicle versus motorcycle crash, two-vehicle intersection crashes, and a three-car rear-ending crash. They were documented using various photography and video techniques taught at the NUCPS.
After witnessing the scenarios, participants formed investigative teams with the goal of analyzing and eventually reconstructing the crashes. A team leader acted as the scene commander, delegating investigative tasks just as in a real crash. Team members served as crash scene investigators, conducting full scene investigations to document and preserve evidence that would aid in future reconstruction efforts.
Participants relied heavily on the training and tools presented in Crash Investigation 1 and 2—the basic and advanced courses that introduce and develop the concept of investigating crashes. For example, each team took vehicle crush measurements, forensically measured crash scenes, and completed field sketches and computer-aided, to-scale color diagrams. Other team members performed detailed vehicle inspections, including tire examinations, seat belt and restraint device analysis, lamp examinations, and damage analysis.
In addition to basic concepts, teams used advanced technical skills, such as drag-factor skid testing, and downloaded event data recorders, or vehicle "black boxes." Once they gathered the data, teams came together to complete technical investigative reports. Each team developed a presentation about their crash, and NUCPS instructors reviewed the final work and offered constructive criticism.
All the investigations were saved and will be used to develop further crash reconstruction training. The future work will help each participant build on the skills learned during Crash Investigation courses, and will build interest in pursuing more course work in the Crash Reconstruction field. The event was sponsored by the Major Crash Assistance Team of Lake County, Ill., and the Collision Safety Institute.
Officer Peter Ahern of the Mundelein Police, said the testing allowed everyone the opportunity to experience and learn something they could not from lecture and they benefited from a confidence boost for when they respond to the "real thing."
Adam Hyde is has over ten years of crash reconstruction experience in the criminal, civil and insurance fields.  Adam also instructs courses in crash investigation at Northwestern University Center for Public Safety.