Uniform Traffic Control Devices
By Robert Seyfried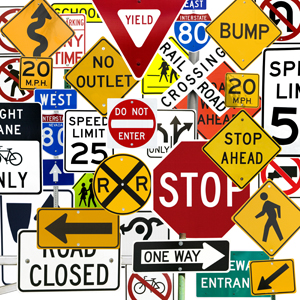 Why are stop signs always red octagons? And why do traffic signals always have red, yellow and green lenses stacked in that order? It's because throughout the United States all transportation agencies follow the Manual on Uniform Traffic Control Devices (MUTCD), an 862-page book published by the US Department of Transportation. Each state is required to adopt its own manual that conforms with the national version.
The manual ensures that wherever someone travels in the country, the signs, pavement markings and traffic control devices are the same colors and shapes and use the same legends. Imagine how confused drivers would be if one state used red octagons as stop signs and another used blue triangles. Uniformity makes it easier for people to understand the traffic regulations and warnings conveyed by these devices.
This wasn't always the case. In the early days of automobile travel, signs and signals of all colors and shapes proliferated throughout the country. But in 1927, the first manual on uniform traffic control devices was developed. Since then, the manual has become longer and more detailed, giving better guidance on the design, use, location and maintenance of these devices.
A recent amendment to the national MUTCD extends the manual's application to private roads that are open to public travel. This includes roadways in residential subdivisions, shopping centers, office parks, airports and school campuses. As long as drivers have free (not gated) access to the roadway, the manual applies. In the past, non-uniform traffic control devices—yellow crosswalk markings and creatively colored signs—had often been placed along private roads, confusing drivers and causing them to make unsafe responses as a result.
Along with uniform designs, it's also important that traffic control devices can be seen in a variety of conditions. Larger sizes improve visibility, and retroreflective signs and pavement markings reflect light from a vehicle's headlights back toward the driver so they can be seen clearly at night. A sign may also be illuminated by lights built into it or shining directly onto its face.
All signs and pavement markings gradually deteriorate and lose some retroreflectivity. The MUTCD requires that agencies maintain an adequate level of retroreflectivity to ensure legibility at night. Because seeing in the dark becomes more difficult as people age, the minimum levels are based on the typical vision of older drivers.
Uniformity and adequate visibility of all traffic control devices are key to giving road users (motorists, pedestrians, and bicyclists) regulatory, warning and guidance information needed to safely travel to their destinations. 
QUIZ
(Answers provided in the next newsletter edition)
Most standard highway warning signs are diamond-shaped. However, there are several standard warning signs that are rectangular. Can you name at least three?
Robert K. Seyfried PE, PTOE, Northwestern University Center for Public Safety Adjunct Instructor and Former Director of NUCPS Transportation Engineering Programs