Addressing Recruitment
By Michael Hanson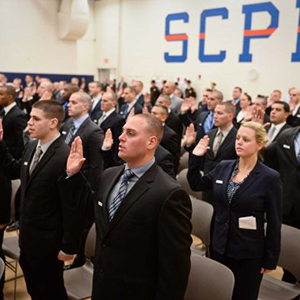 Law enforcement faces a challenging, revolutionary environment over the next several years as we evolve to keep pace with the society we serve. Where is the future of our profession headed? The future of law enforcement lies in the hands of the people we recruit, welcome and train. They are the ones who will move policing into the next phase. Yet, many law enforcement agencies report that they cannot find adequate applicants, and that the "younger generation" does not understand all of the work that policing entails. Do we believe this is just an anomaly, that in two generations we will be back to "old school applicants" willing to work weekends and night shifts? Old school recruiting and training does not work for Millennials, nor will they work for future generations. Like it or not, law enforcement has to adapt to a changing environment.
Identify and Find the Right Candidates
So, how do you find the best applicants to work for your law enforcement agency? Sticking to the same old methods—newspaper ads, booths at job fair booths—will only yield the same caliber of candidate and lead to cookie-cutter agencies where every recruit walks and talks the same. Now, more than ever, it is our duty to expand recruiting beyond traditional bounds. Take a moment to reflect on your agency and on what you value. Then, envision where your community and policing will be in the future. Think beyond the five or ten years you may have left before retirement. Now, envision where your community and policing will be and the type of officer you want doing the job.
As I see it, law enforcement needs people who can communicate and problem solve—both skills that are key to effective policing, now and in the future. Officers who have relational and communication skills from the onset are far ahead of the game for success and will have a higher potential for leadership within your agency.

Finding these applicants is the challenge. We can't continue to sit in booths at job fairs to recruit future police officers. We have to change our tactics. Some tips for finding a better and more diverse field of applicants include:
• Visiting the Boys & Girls Clubs in your area
• Writing Division I, II and III college athletic coaches. After all, athletes engage in team-work while wearing uniforms just like us.
• Visiting minority-based churches
• Hosting youth academies, police athletic leagues and funding a community ambassadors program.

I'd like to stress that if you have the ability to fund a community ambassadors program, seek out this opportunity as fast as you can. Since police cannot be present in neighborhoods 24/7, we have to rely on the community. In a structured community ambassador program, your municipality hires residents of a determined neighborhood to engage the neighborhood, gather information, provide basic services and assist the police. A community ambassador program develops both a partnership and potential recruitment stage for future officers, providing the agency and the potential recruit with an evaluation period of each other.
To further support recruitment, your agency should be on social media explaining the day-to-day operations of law enforcement, humanizing the position, and seeking applicants who desire to make a difference in their community.
Understand What They Want and Provide It
In recruiting, your competition is both other law enforcement agencies and the corporate world offering bonuses, more pay and safer job descriptions. To attract future candidates, we have to understand what they want.
This generation wants work/life balance—and they're not afraid to tell you. But do you as a commander have the ability to create an environment that supports work/life balance and your employees' other needs? Some inexpensive ways to address generational needs include: scheduling, time-off, leadership moments, special teams, special assignments and giving newer recruits a sense of being connected to leadership.
In addition, employees want a sense of belonging. Take a look at the mechanisms already in place that give your employee a sense of esprit de corps and access to decision making. These aspects of your agency satisfy the basic needs of employees—and are vital for employee wellness. Do you have the means for employees to feel appreciated and for employees to feel empowered with access to decision-making and your leadership team? If you do not, take some time to assess what your agency can add to make sure your employees feel valued.
Create Assessments That Work
Moving forward, we have to eliminate barriers that limit the pool of applicants available for recruitment. That means moving beyond testing standards that eliminate potentially great recruits early on. How often do your officers solve algebra problems and perform push-ups during their shifts? We have to find assessments that measure what actually matters: such as a candidate's ability to communicate and to solve problems, both everyday activities for patrol officers. Just think of the quality applicants your agency has lost due to a math score or a push-up. 
This is a seminal moment in law enforcement across the country. You can begin the evolution today. 
Mike Hanson is a Lieutenant with the Madison (WI) Police Department and an instructor in the School of Police Staff and Command. Prior to joining law enforcement, Mr. Hanson worked in human resources in various corporations. He holds a master's degree in human resources.