NUCPS Receives a Transformative Bequest
Northwestern University Center for Public Safety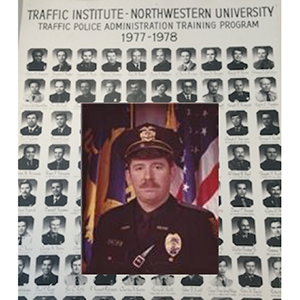 Earlier this year, NUCPS received a transformative gift from the estate of one of our alumni, Sgt. Michael J. Kienzle. 
As part of his estate, Sgt. Kienzle left a generous legacy to NUPCS. His gift is the single largest bequest in the center's 80-year history.
"We are humbled by Sgt. Kienzle's generosity and grateful to have been included in his estate," said NUCPS Executive Director David Bradford. "We intend to honor his memory by using the money to underwrite new courses. Part of Sgt. Kienzle's legacy will be an enormous contribution to the development of the program that he cherished, to the professional growth of law enforcement leaders, and to the renewalof the public safety field."
Retired Sgt. Michael J. Kienzle of Lorain, Ohio passed away on January 2, 2016, at the age of 72. Born May 13, 1943 to Michael and Marcella (Wright) Kienzle, Sgt. Kienzle graduated from Lorain High School in 1961. After serving in the United States Army, he continued his public service as a member of Lorain Police Department for 28 years. During his time on the force, Sgt. Kienzle participated in the Training Police Administration Training Program here at NUCPS. The TPATP, known affectionately as "the long-course," was the predecessor program of the School of Police Staff and Command. Sgt. Kienzle participated in the TPATP during the 1978-79 school year.
Sgt. Kienzle's gift comes at a pivotal time as NUCPS has embarked on an ambitious project of designing new programs to address the needs of 21st-century policing.
If you were a colleague or classmate of Sgt. Kienzle and would like to share a fond memory of him, please send an email to nucps-alumni@northwesetern.edu.