Internal Conflict Resolution
By Michelle Bennett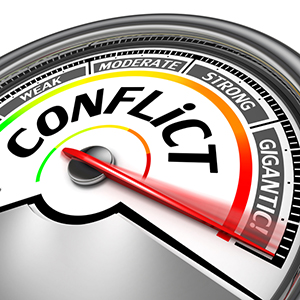 I was told about an incident several years ago where officers at a local precinct heard a 911 call come out over the radio about a distressed individual who was contemplating suicide. Though not an uncommon call, the location that the call was coming from was anything but routine: it was the parking lot of the very same police station; the distressed caller a police station employee who said she could no longer suffer the abuse she was enduring from her supervisor at the station.
Most incidents of internal conflict don't culminate in such an overt and desperate plea for help. In fact, it's more common for employees to suffer internal conflicts in silence.
I once spoke with a commissioned police officer who told me about the harassment he experienced after joining a new department. When he walked into a room, the other officers would stop talking, or they would get up and leave. When not ignored, he said he was frequently yelled at and belittled. The harassment on the job led to sleepless nights at home. The officer reported that he turned to alcohol to help himself deal with the situation at work. Not surprisingly, his work performance declined. Eventually, he left the department and took a lateral position at another department where he thrived and is well-respected by his workmates and by the community.

Resolving internal conflicts is an important part of a police administrator's job. But most who work in law enforcement would say that a 10-19 call to return to the station to handle a conflict or a disciplinary issue is often more stressful than being called to a gruesome crime scene. If not dealt with, internal conflicts can result in poor attendance, productivity, and retention issues, and in liability claims. For these reasons and more, internal conflict resolution is an important skill for police administrators to understand and to master. As many of you know, Northwestern University Center for Public Safety's School of Police Staff and Command includes an instructional block on internal conflict resolution.

An important emerging topic in the study of conflict resolutions involves understanding and addressing workplace incivility and bullying.
Workplace Incivility and Bullying
Workplace incivility can be defined as a rude or discourteous act, and/or the practice of behaviors that undermine the credibility and productivity of others.

Bullying involves intentionally mistreating another member of a department or engaging in conduct which in a repeated, severe and/or pervasive nature substantially interferes with the work or work product of another member of the department. A workplace bully subjects the target to patronizing, sarcastic or unjust critical verbal attacks and/or destructive gossip. In addition, he or she humiliates the target and can ignore, overrule, isolate and exclude the target. A study of U.S. workers found that over 40% of respondents reported experiencing bullying behaviors in the past year. Bullying behaviors can cause another person to feel afraid, humiliated, embarrassed, or threatened. Repeated incidents of workplace harassment and bullying create and enforce an imbalance of power within the workplace. Research also indicates that bullied employees spend a great deal of time at work worrying about how they are being treated. These employees spend time defending themselves and networking for support, thinking about the situation, experiencing de-motivation and stress, and often end up taking sick leave due to stress-related illnesses. Studies show that the consequences of bullying behaviors can cost millions of dollars in lost productivity. Employees who have apprehension about going to work and/or experience agitation and anxiety while they are at work need intervention and training to promote a positive workplace atmosphere. Additionally, employees who face destructive gossip/slander while in the workplace or online during/after workplace hours often feel helpless to control what is being said. These employees are often at a loss about how to address the situation.
What You Can Do:

1. Discuss the effects of workplace bullying and incivility. Describe consequences and give tools to positively address such behaviors. Consequences include loss of productivity, loss of employee emotional wellbeing, and potential liability for the organization. Tools to address bullying behaviors include recognizing a bullying incident when it occurs, appropriately addressing the bully, supporting the target, getting involved in changing organizational culture, and reporting the incident when direct measures to address the incident are unsafe, ineffective or inappropriate. An appropriate workplace civility and anti-bullying policy must also be implemented in the workplace. Having procedures for implementing that policy can help to provide a productive workplace while limiting potential liability for failing to deal with bullying issues.
2. Promote empathy and awareness for others' feelings in the workplace. Praise workers for acts of kindness and respect.
3. Provide comprehensive training (academy and continuing education) related to workplace civility and bullying– and how these topics directly and indirectly relate to procedural justice out on the streets.
4. Address underlying organizational cultures and subcultures that are often the root cause of dysfunction, frustration, and politics.
5. Create a culture of communication and high output in which employees can feel satisfied and valued and the organization can thrive.
By addressing internal conflict head-on, we can build respectful, safe and accountable cultures in our departments.

Michelle Bennett served as Chief of Police for the City of Maple Valley (WA) Police Department for 10 years. Since 1990, she has worked for the King County Sheriff's Office, where she is now the Administrative Services Captain based at the headquarters in downtown Seattle. Ms. Bennett has Doctorate in Education, with an emphasis in Curriculum and Instruction. She is a graduate of the School of Police Staff and Command, Class #235, and of the FBI National Academy, Session 247.