Managing Risk from the Front Lines
By Victor Beecher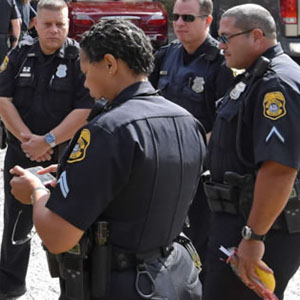 It is often said, most notably by the risk management guru Gordon Graham, that whatever is predictable is preventable. Predicting or identifying action to avert negative outcomes—even if the risk is known and familiar—is not always a straight forward process. Quite the opposite. Brilliant leaders and commanders often fall victim to the temptation of simple, seemingly obvious solutions to complex problems using very linear thinking. Complex problems are rarely solved by simple solutions. But sometimes it seems to make sense: Don't want officers to step in front of a car in order to justify the use of deadly force to stop the driver? Create a policy prohibiting that action. Done. Well, not really. Policies do not alter behavior, leaders do. And on whose leadership are officers most dependent? First-line supervisors.
Policies are only effective if clearly articulated, well publicized, and if the individuals responsible for influencing behavior are prepared to ensure compliance. Policy absent leadership only works for exemplary followers and informal leaders. In other words, risk management is not just creating policy, it is about the actual reduction of risk through active means. And to this approach, supervisors are key.
It's about the driver
Chiefs and command officers often use the analogy of the "bus" when discussing who leads the organization. Chiefs often think of themselves as drivers of the "bus". I would assert that it's helpful and more accurate to think of first-line supervisors as the drivers, the commanders as the navigators, and chiefs as the bus company owners who identify the destination. Nothing much is possible without the driver, the first-line supervisor. The route (policy, procedure, protocol, etc.) and destination (reduction of identified risk) cannot be effectively selected or implemented without the supervisor having some degree of input. Without a willing and capable driver, bad things happen.
First-line supervisors occupy a pivotal position in the policing environment. They are in the community, in public spaces, in contact with officers and citizens alike. Supervisors know the lay of the land because they are often on the ground with the officers, but undistracted by operational tasks. Supervisors can gain situational awareness beyond an officer's capability: assessing trends, attitudes, and the changes within the policing environment when briefed at the scene, by reviewing reports from various police actions, and through monitoring officer performance, activities, and attitudes. Exemplary supervisors know the subtleties of the community, social conditions, and the areas where stable and threatened neighborhoods are located. Moreover, they can draw reasonable conclusions about how the community (both law-abiding and lawless) will react to changes in police deployments, new initiatives, policy changes, or new police protocols, and can observe the effect personally.
Getting input from supervisors for command decisions regarding risk management can enhance risk mitigation, lead to understanding of the potential outcomes, and improve and solidify constructive lines of organizational communication.
Risk management is problem-solving
When the average time to conduct a traffic stop triples, and citizen complaints predictably increase, it is the first line supervisor who is most likely to identify problem and take measures to address the cause. Though an agency's leadership may be briefed on the nature of this type of systemic problem, the consequences are likely to be fully understood only by first-line supervisors as they deal with angry citizens and the fallout from citizen confrontations with officers. These experiences are what supervisors draw on when—taking the traffic stop scenario as a hypothetical—they later advise against implementing a procedure that might cause unintended consequences such as additional delays. Ultimately those who implement procedure, policy, and protocol, are often key problem solvers and great resources for coming up with solutions. Want to kill the motivation of an excellent problem-solving supervisor? Don't bother to ask him or her about the nature of a street-level problem or its potential solutions.
Risk management is a supervisory role
So, what do supervisors need to know to effectively assist in managing risk in an organization? First and foremost, supervisors must understand their role. Role ambiguity is a killer. If supervisors don't know their role, they can't do what's expected of them. A supervisor who knows his/her role can confidently guide operations and describe the pros and cons of rules, policies, and procedures designed to mitigate risk. Though competent and engaged supervisors will generally seek role clarity, it is the responsibility of the agency to clarify expectations.
Effective first-line supervisors often recognize where risk exists in police operations. In most agencies supervisors institute sometimes extensive formal and informal operations-level controls to manage risk without the knowledge of the agency leadership. Street-level supervisors are given the discretion to address the myriad of issues which develop on the street and, over time, create controls that set expectations. Often, supervisor initiated controls correct and clarify poorly written policy.
First-line risk management can include both discipline and reward-structured strategies to reduce incivility (internally and externally); reduce the frequency and level of force used by officers; reduce the dangers experienced in pursuit driving; reduce the level of complaints by citizens; reduce the likelihood of the failure of critical equipment; increase awareness of risk by officers engaged in hi-risk environments or functions, and on and on and on.
Risk managers, know thy selves
It is critical to any risk management effort that chiefs, commanders, and supervisors alike recognize that the only function of first-line supervisors is risk management through leadership. When agencies marginalize their role, influence, or value, they can effectively kill supervisory motivation and ability to function effectively. When supervisors are knocked out of the problem-solving process, they become a part of the problem unless revived by effective leadership efforts.
Agencies typically go in the right direction when they understand that supervisors drive operations. Everything from record keeping to officer-involved shootings, all risk-mitigation efforts are led, managed, coordinated, controlled, recorded, or ignored by first-line supervisors. Supervisors who don't know their role, don't understand their agency's expectations, and don't problem-solve identified risk. They set themselves and their agencies on a bumpy course to a place no one wants to go.
Victor Beecher is the Director of New Programs at NUCPS and an instructor in the Supervision of Police Personnel  program, an online and onground course that prepares first-line supervisors for the job. Mr. Beecher was with the Milwaukee Police Department for 26 years where he was Captain of the Fourth District and the director of the department's training division and regional training center.