David Bradford has served as Executive Director of the Northwestern University Center for Public Safety (NUCPS) since 2011. During his tenure as executive director, he has helped to enhance NUCPS' reputation as a leader in global law enforcement professional development and education. Under his leadership, NUCPS has delivered its programming to law enforcement and public safety professionals in 36 countries, in addition to the Center's work on Northwestern's main campus in Evanston and throughout the United States.
Prior to arriving at Northwestern, Bradford served as the chief of police of the Glen Carbon, Illinois, Police Department, from 1998 through 2011. He earned his Master of Public Administration from Southern Illinois University in 1996, where he received the Leo G. Cohen Award in Urban Management upon graduation.
Bradford currently chairs the Accreditation Council of the Illinois Accreditation Law Enforcement Program (ILEAP). He is the principal author of the ILEAP Accreditation Manual and Standards Development and serves on the Advisory Council for Illinois Secretary of State Jesse White. He was previously a member of the Law Enforcement Steering Committee, Southern District of Illinois, U.S. Department of Justice.
As a highly respected member of the national and international public safety communities, Bradford is an active member of several professional associations, including the International Association of Chiefs of Police (IACP), the Illinois Association of Chiefs of Police, and the American Society of Law Enforcement Trainers. He is a former IACP Executive Board member and a past president of the Illinois Association of Chiefs of Police and the Southern Illinois Police Chiefs Association. He served on the Illinois Criminal Justice Information Authority, from 2004 through 2011.
Bradford is also an acknowledged authority on topics within his field and has published numerous articles in such national professional publications as Police Quarterly and Public Personnel Management. Internationally, he has been a guest lecturer at the South Korean National Police Academy and Kosovo National Academy for Public Safety.
Bradford began his law enforcement career as a patrol officer in the Edwardsville, Illinois, Police Department in 1979, where he served until 1998. Bradford's career in Edwardsville included promotion to the rank of lieutenant and to the positions of chief investigator and court liaison. In addition to being a certified police chief, he holds several certifications in public safety subjects from such accredited institutions as the FBI, the University of Illinois, and the Illinois Coroners & Medical Examiners Association. He is a former adjunct faculty member of Southwestern Illinois Community College Criminal Justice Program where he taught courses in police administration, criminal investigation and rules of evidence.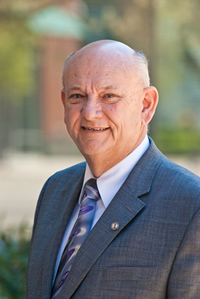 David Bradford
Executive Director, NUCPS
d-bradford@northwestern.edu
TEL (800) 323-4011