Build Your Expertise and Make a Difference
Northwestern University offers a wide range of science and technology programs that prepare you to make a difference in fields that impact lives.
Learn from a faculty of industry experts who are thought leaders in fields like analytics, IT, biotech, informatics, and healthcare.
Collaborate and network with classmates who are experienced professionals.
Strengthen your resume with a degree or certificate from Northwestern University.
Expand your skill set in convenient online and evening on-campus classes.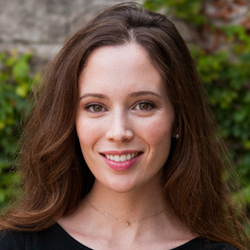 "The program helped me to hit the ground running when I accepted my current position. There's almost no responsibility I have now that I didn't first encounter in the MS in Regulatory Compliance program.

"

— Brynnan Foster, MS in Regulatory Compliance alum, Senior Clinical Research Specialist at Fresenius Kabi USA
STEM Programs
Master's Degree Programs
Bachelor's Degree Majors
Biological Sciences

The science of biology is the study of living organisms at all levels of complexity and in all their diversity. The goal of the biological sciences program at Northwestern is to develop and enhance the intellectual and creative potential of life sciences students.

Mathematics

Mathematics plays a central role in modern society. It has long been an important tool in science and engineering, and is used increasingly in varied and sophisticated ways in the social sciences, the humanities and business. This major offers a variety of courses that address these diverse applications of mathematics.

Psychology

Psychology is the scientific study of behavior – how people perceive the world, think and act. In addition to the obvious benefits of an understanding of human behavior, the major in psychology emphasizes the development of critical thinking skills and practical experience developing research ideas, analyzing data and communicating results.
Professional Development Certificates
Coding Boot Camp

Coding Boot Camp curriculum covers the basics of coding, algorithms and data structure, all the way through intensive training in Javascript, Node.js, HTML, CSS, jQuery, Python, and more. In addition to classroom instruction, students will spend 10 to 15 hours a week on outside projects and experiential learning activities. These collaborative coding projects will help them to build a professional project portfolio to showcase their abilities and hone their competitive edge in the employment market.

Fostering Innovation in Biotechnology

Prepare for leadership roles within biotechnology organizations by using a combination of case study analysis, group projects, guest lectures and personal interviews with industry experts to gain an understanding of the necessary talent and technology elements to support commercial success within the industry.
Post-baccalaureate Certificates