NUCPS Community
Northwestern University Center for Public Safety students, course graduates, and instructors are an elite network of public safety professionals working in US and international agencies and dedicated to improving public safety in the communities that they serve.  
The NUCPS Community strives to offer our students and graduates resources and opportunities to connect at all career stages. 
SPSC #459 Leadership Legacy Scholarship Fund
As part of every School of Police Staff & Command (SPSC) class, NUCPS encourages each class to leave a legacy. Many SPSC classes raise money to donate to a charity or family in need; others work to make improvements in the communities they serve. Class #459 wanted to create a lasting legacy, so it established the Leadership Legacy Scholarship to provide free SPSC tuition for a law enforcement leader who may otherwise be unable to afford the program.
The inspiration for this fund was McHenry County (IL) Sheriff's Deputy Jacob Keltner, who was killed in the line of duty on March 7, 2019, while serving a search warrant as part of the US Marshal's Fugitive Task Force.
The Leadership Legacy Scholarship Fund will award one free tuition per year to the spring Evanston SPSC class (and one in the fall class if money is available).
Requirements of the scholarship include:
This scholarship will award tuition to an Illinois law enforcement officer.
This scholarship will be awarded to an officer employed by an agency of 50 or fewer sworn officers.
All applications are due by November 1.
For more information, applicant qualifications, and decision processes, please click here.  To apply, please fill out the PDF application and email the completed form to nucps-alumni@northwestern.edu by Nov. 1, 2019.
---
The Key
The Journal of the Northwestern Center for Public Safety
The Key is the official journal of Northwestern Center for Public Safety and is free to all NUCPS course graduates and friends of the Center. The Key features law enforcement and public safety-related articles authored by expert members of law enforcement, public safety, and related industries.
Update Your Contact Information
To receive The Key, invitations to such alumni-related events as our Annual Reception, and more, please be sure we have your current, preferred email address. You can send changes to email, agency, home address, and title / rank to nucps-alumni@northwestern.edu.
More NUCPS Community Resources
NUCPS offers course graduates continued access to our staff studies and webcasts: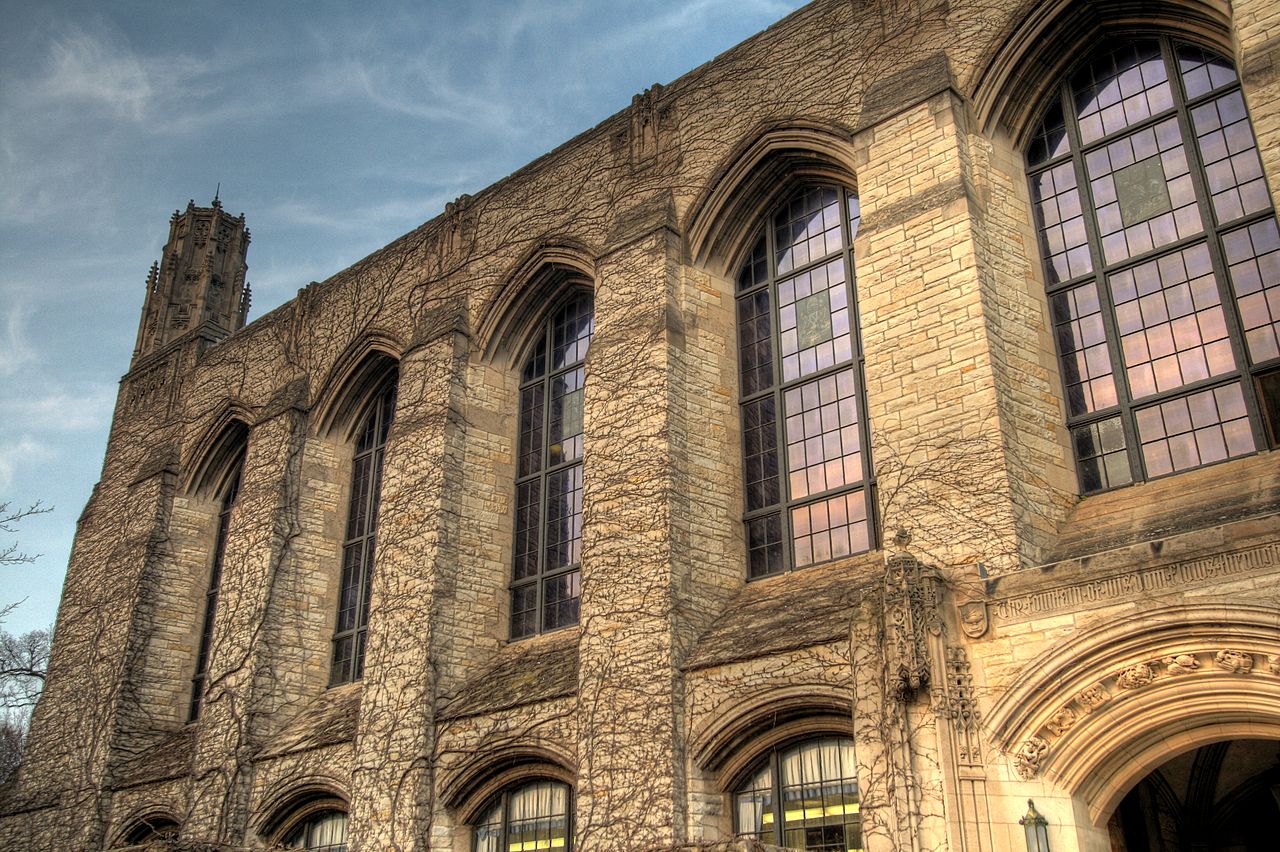 Northwestern University's Main Library, which includes the Transportation Library, serves as a continued resource for course graduates, offering public access hours Mondays-Saturdays, from open through 6pm. You only need a valid photo ID to enter. Visitors can access the library catalog and online resources by using a temporary guest NetID. To borrow items, visitors need to obtain a Borrower's Card. NU Libraries also participate in interlibrary loan programs. Library Guest NetID Information >>
NUCPS Alumni Giving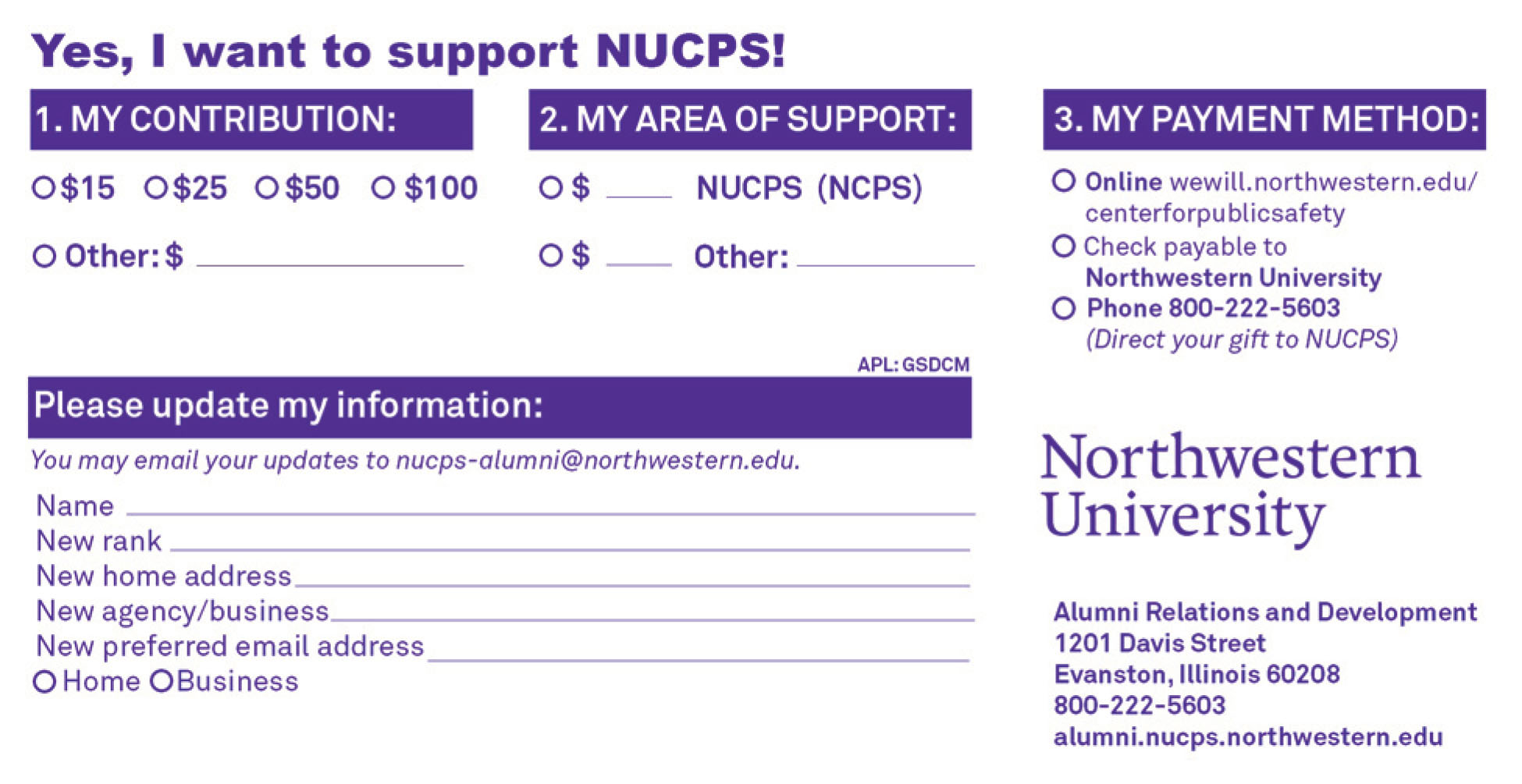 Contributing to NUCPS has never been easier or more fulfilling. Learn more >>
Questions?
Contact NUCPS Alumni Relations with questions, for help with donations, to change your contact information, or to place alumni promotions or updates into our social media newsfeeds.
(800) 323-4011
(847) 467-2913
NUCPS Alumni Relations
1801 Maple Ave., Ste. 1410
Evanston, IL 60201
Back to top