---
Registration Help
Our registration system is accessed at registration.nucps.northwestern.edu.
If you are a first-time student, you will need  to create an account  in order to add courses to your cart or to register for a course. Your account securely saves your course history and billing information to the system. 
When you locate the course for which you want to register, add it to your cart using the button link at the bottom-right corner of the course description page. Follow the on-screen instructions to complete the online registration process.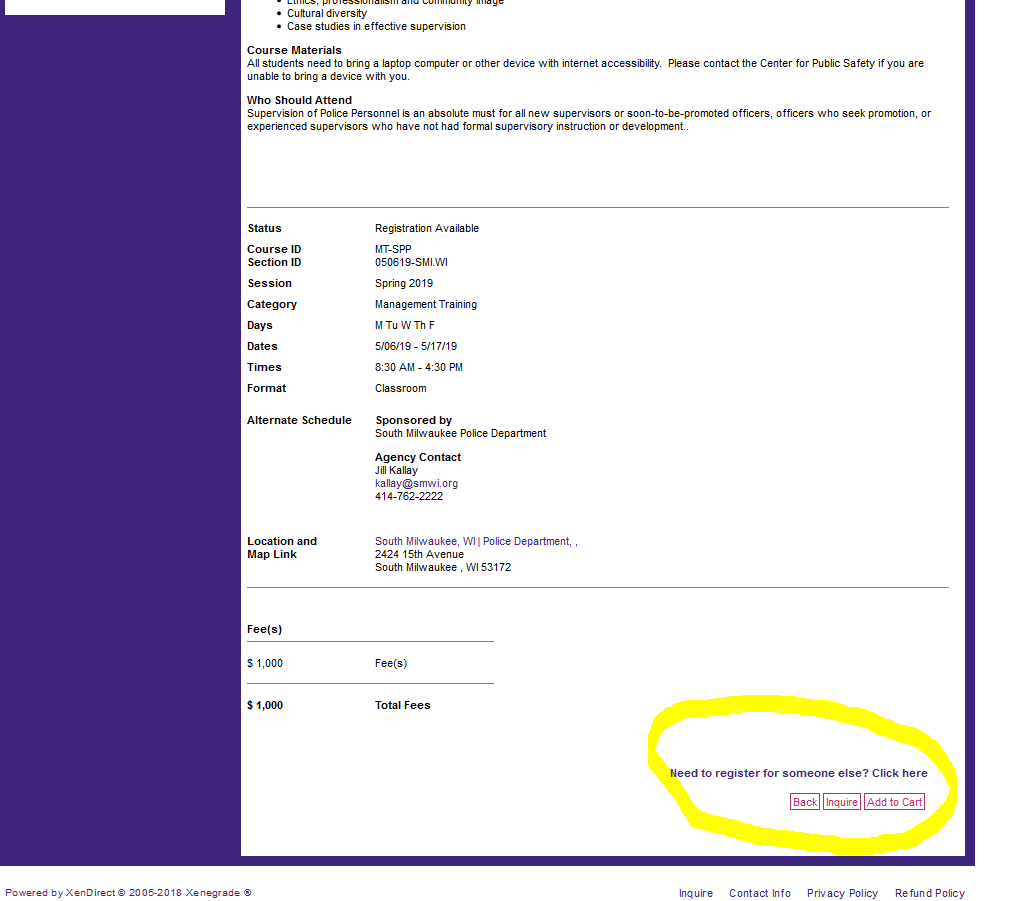 Registering for Multiple Students?
Agencies can add members to their accounts, allowing a single contact to register multiple students at a time. Once you've created your account and are logged in, click on MyAccount from the left navigation. Then click on Manage Members. Now you can add to your account all the members for whom you wish to register.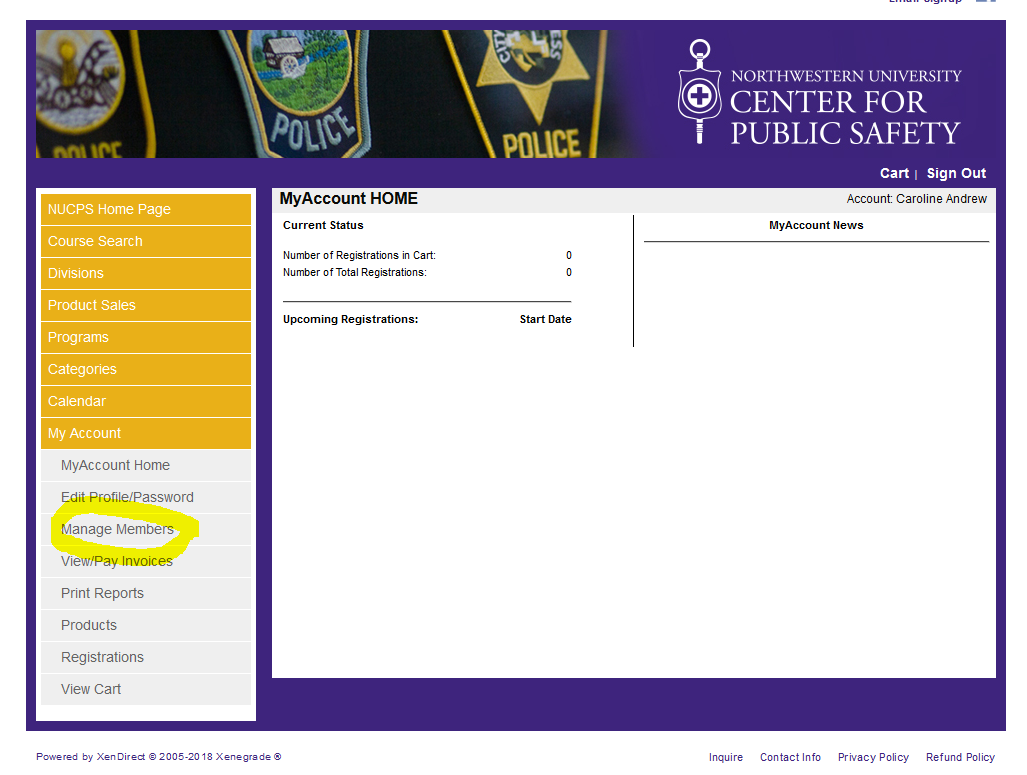 Please be sure to add individual email accounts, birth dates, and addresses for all students for whom you are registering. We never share or sell our student information, but we do need individual contact information for communicating with individual students. 

Payment Information
Payment is expected at the time of registration or upon receipt of the invoice and before the first day of class. For online courses, course login information will not be provided --  and course materials will not be mailed -- until payment has been received in full or a purchase order has been submitted.
NUCPS offers a wide variety of payment methods:
Credit Card
NUCPS accepts American Express, Discover, MasterCard and VISA.
To pay by credit card:
Sign into your account.
From the left-hand navigation, click on MY ACCOUNT.
Click on VIEW/PAY INVOICES.
Select the appropriate invoice number from the INVOICE TO PAY drop down and click PAY NOW.
Provide your payment information and click CONTINUE.
Review the payment details and click SUBMIT.
Confirmation of an online payment with a credit card is automatically sent to the email address on file for the account.
Credit card payments may also be made during regular business hours (9 a.m.-5 p.m. Central, Monday - Friday) by phone (800-323-4011).
Check
Checks should be made payable to Northwestern University Center for Public Safety and mailed to:
Northwestern University
School of Professional Studies
339 East Chicago Ave., 6th Floor
Chicago, IL 60611
Please note: We only accept checks drawn on a US bank and payable in US funds.
Purchase Orders
Please email purchase orders as an attachment to nucpsreg@northwestern.edu, or mail to NUCPS.
To view/print an invoice, please follow the instructions below:
Sign into the account for which you would like to view/print an invoice
From the left-hand navigation, click on MY ACCOUNT
Click on VIEW/PAY INVOICES
Locate the appropriate invoice number and click the related printer icon to open the invoice in your internet browser
Wire Transfer
If you are an agency or student outside of the US and wish to pay by wire transfer, please contact NUCPS Accounts Receivable at 800-323-4011 for more information.
Cancellation Policy
Cancellations submitted within 30 calendar days prior to the course start date are subject to a cancellation fee of 20% of the course fee up to a maximum of $400. Students who register for a course and fail to attend without providing notice of cancellation to NUCPS are subject to a no-show fee of 50% of the course fee up to a maximum of $1000.
Please note: Cancellations are not accepted by phone.
Students who wish to cancel or withdrawal from a course must submit the request in writing using the NUCPS course cancellation form. Please email this form to:
Roslyn Austin, Registrar at r-austin@northwestern.edu
Students who wish to cancel their enrollment in a course have the option of a refund of the eligible tuition paid or to keep the eligible amount paid as a credit towards the tuition of another class. If a credit is selected, NUCPS will hold that credit for a period of 12 months. After 12 months, the credit must be used or the money will be refunded.
NUCPS-Cancelled Course
If NUCPS cancels a class, students receive a full refund of the tuition paid or have the option of keeping the dollar amount paid as a credit. If a credit is selected, NUCPS will hold that credit for a period of 12 months. After 12 months, the credit must be used or the money will be refunded.
Please do not book non-refundable travel more than 30 days prior to the scheduled start of the course. These fees will not be refunded if the course is cancelled at least 30 days prior to its scheduled start date.
Cancellation policies are subject to change.
Transcripts
Transcripts are available to graduates of Supervision of Police Personnel and School of Police Staff & Command. By federal law, transcripts can be issued to students or to a third party only upon written authorization. To purchase an official transcript, please click here. 
Back to top