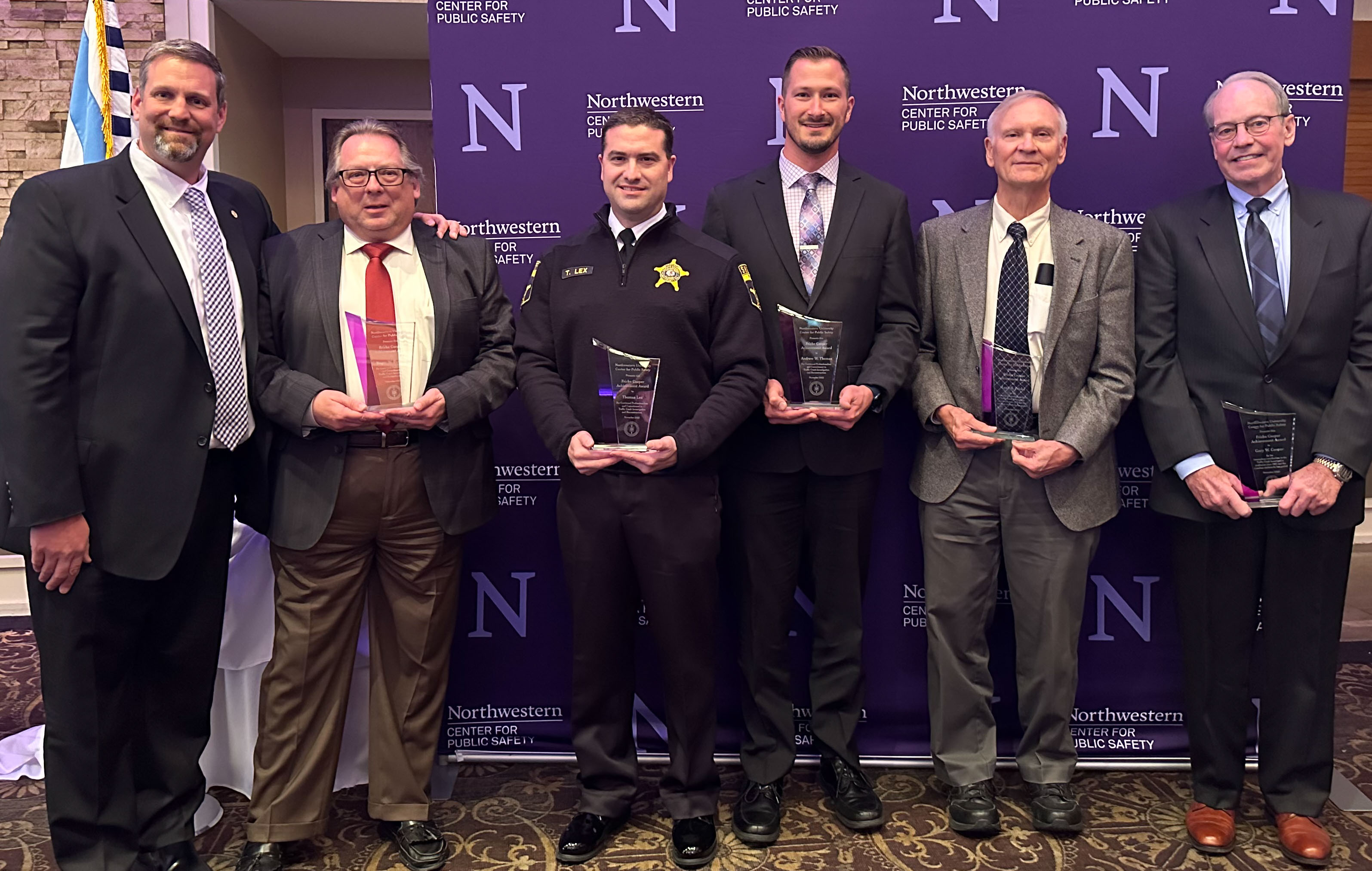 (From Left to Right: NUCPS Crash Director Adam Hyde, NUCPS Instructor Roger Barrette, Sgt. Thomas Lex, NUCPS Instructor Andrew Thomas, retired NUCPS Crash Director & Instructor Lynn Fricke, former NUCPS Crash Director & current Instructor Gary Cooper). 
Inaugural Fricke Cooper Achievement Award & Executive Leadership Award Recipients Honored
On Friday, November 18, 2022, Crash Director Adam Hyde had the privilege of bestowing the inaugural Fricke Cooper Achievement Award to Crash Reconstruction all-star professionals who were instrumental in contributing to our Crash & Reconstruction program and helping it develop its unmatched academic reputation: Lynn Fricke, Gary Cooper, and Roger Barrette. All three are internationally respected authorities in traffic crash investigation and reconstruction as well as legendary NUCPS instructors. 
The author of several topics in J. Stanard Baker's classic texts Traffic Crash Reconstruction and Traffic Crash Investigation, Fricke became the primary author and editor of the current editions. A popular instructor, he served as the director of the Traffic Institute's Accident Investigation Division (now the NUCPS Crash Investigation & Reconstruction Division) from 1981 - 1990. Cooper assumed the directorship from Fricke in 1990 and also co-authored topics in multiple editions of Traffic Crash Reconstruction. Still an instructor with NUCPS, he is the primary author and editor of the upcoming edition of this classic text. The third member of this trio is Roger Barrette, who has been a NUCPS Crash Investigation & Reconstruction instructor since 1990 and is a deputy commander of the Lake County (IL) Major Crash Assistance Team.
Also on hand to receive their 2022 Fricke Cooper Achievement Awards were NUCPS Instructor Andrew Thomas and Lake County (IL) Sheriff's Office Sgt. Thomas Lex. The 2022 recipients were honored on Nov. 18 at a combined luncheon in Schaumburg, Illinois, with our graduating SPSC Class #531 and the 2022 Executive Leadership Award recipients. 
The Fricke Cooper Achievement Award and the Executive Leadership Award recognize the commitment of their recipients to continued professional development and to delivering the highest quality services to their communities. These awards represents hundreds of hours of class time, homework, studying, and exams. The Executive Leadership Award is presented to students who have completed Supervision of Police Personnel, School of Police Staff & Command, and the Executive Management Program. The Fricke Cooper Achievement Award is available to applicants who have completed the five-course Crash Investigation & Reconstruction sequence, Crash Data Retrieval Analysis & Applications, and three elective courses in Crash Investigation & Reconstruction.
The 2022 Fricke Cooper Award recipients are:
Lynn B. Fricke
Gary W. Cooper
Roger W. Barrette
Andrew W. Thomas
Tom J. Hall
Thomas Lex
John R. Stelly II
The 2022 Executive Leadership Award recipients are:
Buffalo Grove (IL) Police Dept.: Anthony M. Goldstein, Timothy J. Gretz, Michael A. Rodriguez
Carol Stream (IL) Police Dept.: Brian R. Cluever
Cedar Falls (IA) Police Dept.: Timothy B Smith
Cook County (IL) Hospital Police Dept.: Gregory Moore
Cook County Sheriff's Police Dept.: John H. Blair, Patrick T. Murray
Elmhurst (IL) Police Dept.: Brendan P. Bruckner, Matthew J. Himpelmann, Matthew R. McCollum, Guy E. Schweik
Illinois State Police: Sean T. Brannon
New Lenox (IL) Police Dept.: Hilary B. Davis
Niles (IL) Police Dept.: Thomas G. Fragassi
Wheeling (IL) Police Dept.: Michael P. Conway
Zion (IL) Police Dept.: Anthony Velardi
Earlier NUCPS News & Updates
Back to top