Issue 12 - The Management Issue - December 2019
Strong leadership, expert management -- these exemplify the attributes NUCPS students sharpen and strengthen in courses at NUCPS. This issue offers management and leadership articles for multiple areas, including organizational strategy and alignment, officer retention programs, and drone program decision making.
Holiday Greetings from NUCPS
As 2019 comes to a close, the staff and instructors at Northwestern University Center for Public Safety would like to extend holiday greetings to you and your family. We hope that the holidays are filled with many reasons for good cheer and that the new year — and new decade — bring you and your loved ones prosperity, peace, and good health.
Northwestern University, including the Center for Public Safety, will be closed for winter recess from Tues., Dec. 24, through Wed., Jan. 1.
Happy Holidays,
Dave Bradford,
Executive Director
---
By Joseph Fitzgerald, PhD
Understanding the concept of organizational alignment and applying its principles can provide public safety executives with a blueprint for strategic success. Organizational alignment is the process by which an organization and its business units, managers, leaders, support units, external partners, and boards collectively pursue a singular strategy. 
Read more about organizational alignment in a public safety agency >>
---
By Iain Lopata, Adam Hyde & Stan Taylor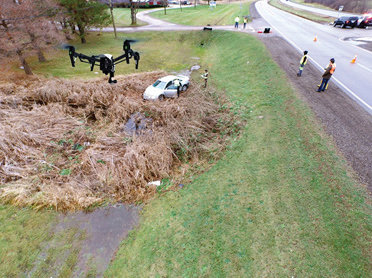 In 2016, a serious two-car accident on Route 41 in Illinois resulted in a fatality. The southbound lanes were closed for over four hours, including the evening rush hour. The two hours required to measure the evidence and the roadway configuration with a total station was the primary cause of the long scene clearance time. A team testing the application of drones to the forensic mapping of crash and crime scenes was also at the crash scene that day. The test team completed its on-scene measurements in 18 minutes . . . Fast forward three years and the Lake County Major Crash Assistance Team has cut at least an hour from on-scene work due to its implementation of a drone program, improving both the science and the safety of crash investigations. 
For agencies considering adopting and implementing a drone system of their own, this article offers several important decision points to keep in mind.
Read about all drone program management considerations >>
---
By Commander AJ Castaneda, Jr., Globe (AZ) Police Department, NUCPS School of Police Staff & Command, #461
Law enforcement agencies that experience below-optimum staffing levels often experience sublevel performance and productivity, and overworked employees suffer poor morale. An agency's ability to provide essential law enforcement services to its community becomes severely impeded. Thus, it is incumbent upon law enforcement leadership to develop and implement  sustainable officer retention programs in their agencies.
Read the retention program study and options >>
---
On Friday, November 15, four law enforcement professionals received the NUCPS Executive Leadership Award: Christopher Ross, Los Alamos (NM) Police Department; Nicholas Zakula, Niles (IL) Police Department; Daniel Strickland, Northbrook (IL) Police Department; and, Matthew Szymanski, also from the Northbrook Police Department. The prestigious Executive Leadership Award is presented to those individuals who have completed Supervision of Police Personnel, School of Police Staff and Command  (SPSC), and the Executive Management Program.

Also in November, SPSC Class #468 selected the first recipient of the Leadership Legacy Scholarship, Sgt. Anthony Prater of the Country Club Hills (IL) Police Department. Many SPSC classes raise money for a charity or to donate to a family in need and others work to make improvements in the communities they serve as their class legacies. Class #459 desired an on-going gift and established the Leadership Legacy Scholarship.
Read more about the scholarship >>
---
On October 27, NUCPS staff and instructors hosted alumni and students at its annual reception, this year  in Chicago during IACP. The ballroom of the London House Hotel Chicago offered beautiful views of the Chicago River and Wacker Drive, and attendees enjoyed networking, a delicious slider buffet, an open beer and wine bar, crab cakes, and desserts as well as receiving a complimentary 2019 Annual Reception baseball jersey t-shirt, our most popular reception giveaway to date. Special guests, Chicago's "Blues Brothers," circulated the room and posed for photos, while students, alumni, and staff also had fun taking pictures in the Northwestern-themed digital photo booth.
Check out our reception photos >>
---
Students Raise Funds for Ailing Officer & Family
SPSC Class #468 utilized various fundraising tools, including a GoFundMe account and raffles, to raise approximately funds for Norridge (IL) Police Officer Anthony Beckman and his family. Beckman was diagnosed in August 2019 with Acute Lymphoblastic Leukemia PH Positive. At its graduation in November, Class #468 was able to donate approximately $7,000 to the Beckman family. The GoFundMe.com fundraiser still is open  at http://bit.ly/spsc468beckman.
---
Pencil Us In! Currently Scheduled Winter / Spring 2020 Courses
Police Training . . . Management & Leadership . . . Crash Investigation . . . Transportation Engineering
Online or in the classroom, Northwestern is the direction for your career! Enroll in one (or more) of our Winter / Spring 2020 courses.
Download the Course Catalog PDF >>
---
Back Issues
Read More . . .

More articles from past issues of The Key are available using the following links . . .

For your complimentary subscription, click here.

---
About The Key
The Key is a bi-monthly publication of Northwestern University Center for Public Safety, 1801 Maple Ave., Evanston, IL 60201. nucps.northwestern.edu. Copyright © 2019, by Northwestern University Center for Public Safety. Reproduction of any part of this publication without express written permission is strictly prohibited. Articles are contributed by professionals in public safety and related fields. No word rate is paid. No other reimbursement is provided. Contributors' opinions and statements are their own and do not reflect that of Northwestern University Center for Public Safety or Northwestern University. Advertising is not accepted. To update the email address associated with a subscription, please email nucps-alumni@northwestern.edu. David Bradford/executive director. Caroline Paulison Andrew / editor.
Back to top