Returning to the Literary World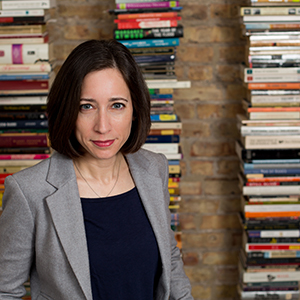 Amy Friedman had always wanted to attend graduate school to study literature with the hopes of teaching English. But shortly after college, she got married and took a job as a project manager at a large human resource company in order to pay the bills and to put her husband through law school. Yet the dream to return to the literary world always followed her, so once her husband had established himself professionally, Friedman applied to the Master of Arts in Literature program at Northwestern University School of Professional Studies.
As a working mother, Friedman needed to be able to attend classes in the evenings but didn't want to sacrifice a quality education. Enrolling in the MALIT program allowed her the flexibility she needed to pursue her degree.
"I wanted to learn from the best professors in the field," she said. "I grew up about 20 minutes from Northwestern and I knew the quality of the education I'd receive. I also wanted to go to grad school with ambitious, accomplished students who could also be my teachers."
Now, Friedman teaches English at Harper College, incorporating many skills into her teaching that she acquired by watching her Northwestern professors. She recalls a class called Liberty and Authority in Western Drama taught by Dr. Darío Fernández-Morera.
"I was always struck by his brilliance, but the way he related to his students was equally impressive," she said. "He demonstrated the value of learning from his students as we learned from him. He would walk around the room and sit down next to whichever student was offering comments so that he could ask follow up questions to learn new perspectives. That someone of his caliber could learn from his students taught me that I must do the same for mine."
Citing the influence of excellent professors and peers, Friedman says the program, from which she graduated in 2009, provided her with a knowledge base that she would not have otherwise gained. Learning how to analyze texts from a theoretical perspective, becoming versed in the art of research on a grand scale, and gaining confidence with literary works she would not have conquered on her own are just a few of the ways the MALIT program helped Friedman create a new career.
Most of Friedman's time outside of teaching is consumed by writing poetry. Many of her poems have been published in literary journals, and her first chapbook of prose and poetry, Gathered Bones Are Known to Wander, will be released by Red Bird Chapbooks this year. Currently at work on her first full-length book of poetry, Friedman has been able to turn her dreams of a literary life into a reality.
"My degree has opened doors for me," Friedman said. "Having Northwestern on my résumé has helped me to secure two teaching positions. My friends from the program have become quite successful, and we've been able to help each other professionally. I left Northwestern with a network of people in the lit community that's proven invaluable."
Article by Danielle Susi