type: Student Insights topic: Student News program: Public Policy
Public Policy Students Travel to NYU for Final Round of Policy Case Competition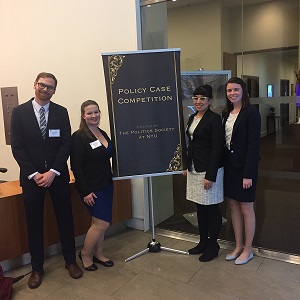 Four Master of Arts in Public Policy and Administration (MPPA) students—Ivy Perez, Daniel Pattley, Katie Scovic, and Elizabeth Christian—traveled to New York City to compete in the final round of the New York University Policy Case Competition (NYU PPC) against students from Harvard, Yale, MIT, Virginia Tech, and other universities. It was the first year Northwestern students participated.
The NYU PPC challenged teams to explain an assigned problem in one of four policy areas and propose a practical solution using an executive summary and 20-minute presentation. Teams additionally underwent an intense Q&A session from the judges. The Northwestern team was tasked with developing a domestic policy solution that addressed income inequality.
Using a two-generational approach, the team's proposal included short- and long-term plans for providing early childhood education, improved career and technical education training, and increased parent support programs. The proposed programs were designed to address income inequality by giving low-income families access to tools and resources needed to break out of the low-income cycle.
Though the team ultimately didn't take home the NYU PPC win, the inaugural showing brought Northwestern's MPPA program into the national spotlight among peer institutions.  
"There's something about the high stakes of this competition that made our students perform at their best," said faculty sponsor Felicity Vabulas. "They refined extremely important skills such as writing policy memos, crafting executive summaries, and presenting as part of a team. I know this experience will stick with them for a long time."
Student Daniel Pattley reinforced this message, explaining, "Success in this field requires you to learn how to make recommendations that are specific, persuasive, and brief, and I think this competition helped me to improve in those areas."
Additionally, the competition offered MPPA students real-world policy experience and opportunities to network with their colleagues from across the country.
"The competition challenged us to come up with an innovative policy approach," added Elizabeth Christian. "It was also great to meet students from other universities who are working in the field."
tags:
May 3, 2017