Skip to main content
type:Alumni topic:SPS News program:Health Informatics
Medical Mission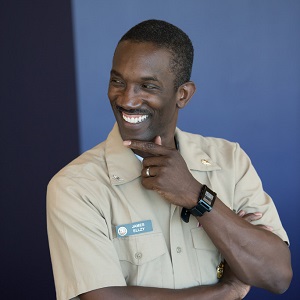 For the past three years, Captain James Ellzy, MD, served on the team selecting a new medical records system for the US Department of Defense and Department of Veterans Affairs. To ensure the system works, the US Navy officer treats patients two days a month so he can use the software himself. "It's important that I have credibility," he says.
Ellzy, who has spent his working life in both medicine and information technology, got that credibility by going back to school to help the two disciplines learn to talk to each other. Having begun his career as a ship's doctor, he watched over the years as medical records became more and more automated. He saw, too, that producing software to meet the complex needs of medical teams remained a challenge. That's why Ellzy, who got his bachelor's degree from Northwestern in 1992, returned to get his master's in medical informatics from SPS in 2011.
At SPS, the composition of Ellzy's online program cohort, split evenly between students with medical and technology backgrounds, requiredthat students learn to explain themselves. "We learned to communicate with each other," he says. "Your grade depends on it."
In the distance learning program, "I learned so much outside the classroom," Ellzy says, including at conferences and via message boards with his cohort. Today he remains active in the Washington-area NU Club and participates in alumni interviews.
The medical information technology that Ellzy works to improve has potentially wide-ranging and long-term benefits: shared patient information across healthcare systems, algorithms to analyze that information and recommend treatments, and advancements in patient safety—because, he says, only half-jokingly, "doctors have messy handwriting."
—David Lewellen
tags:
April 5, 2018