Resources for New Students
Resources for New Students
Everything you'll need to know for a strong start at Northwestern
To help you get started at Northwestern University, the Student Services Department of Northwestern University School of Professional Studies has developed an Online Orientation for all new students. For program-specific tutorials (distance learning students), see the links below.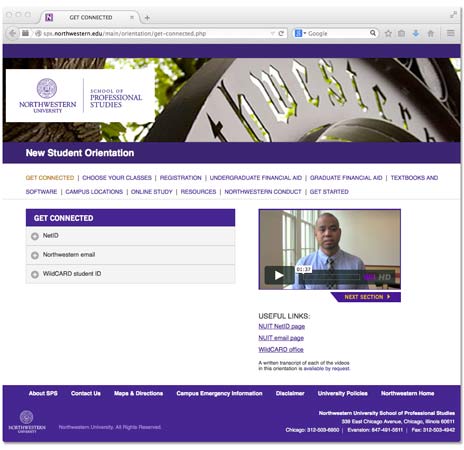 Technical Requirements for Online Students
Graduate students enrolled in Distance Learning programs should review system requirements and technical information related to their academic program.
WildCARD: Northwestern Student ID
Once admitted, students are able to obtain a WildCARD student identification card, which provides access to computer labs, library facilities and University services.
On-campus students can visit the WildCARD offices in Evanston and Chicago to obtain a WildCARD.
Online students who are not in close proximity to the WildCARD offices may use the process below to obtain a WildCARD:
1. Upload a digital photograph of yourself (NetID required, Internet Explorer recommended)
2. Mail a notarized copy of your driver's license, state ID or passport to:
Northwestern University
School of Professional Studies
339 E. Chicago Ave, 6th Floor
Chicago, IL 60611
attn: WildCARD