The Humanities and the Experience of War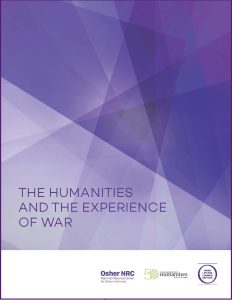 In 2016, the National Resource Center for Osher Institutes (Osher NRC) formed a committee of staff and volunteer leaders from six Osher Institutes to pursue a grant from the National Endowment for the Humanities (NEH). Following a successful application, the committee was tasked with how to best use the funds to create scholarly curricular materials that would be useful both within Osher Institutes, as well as their surrounding communities.
The team narrowed topics, and settled on The Humanities and the Experience of War as the overarching theme that could lead to a variety of public events and OLLI courses. This topic was recognized to have nearly universal interest to OLLI programs throughout the US. Three humanities scholars with distinct experience surrounding the topic were recruited to develop content for the workbook. Sub-themes developed for the workbook are: Modern Wars, Eternal Questions: Exploring the American Experience of War from Vietnam through the Global War on Terror; Wars in Recent American History: The Home Front; The Memorial Landscape: Representing the Experience of War in the Cultural Landscape; Relief Agencies: The Experience of War in the Recovery During and Following War. For each of these sub-themes, the workbook contains an overview, recommended resources, discussion questions and other potential activities that can be created as local programming related to the overarching theme. These materials should help instructors bring broader meaning to courses and discussion groups striving to better understand the experience of war.
The workbook available through the link above is intended for use by Osher Institutes, other lifelong learning organizations and the general public with the hope of the Osher NRC expanding upon this theme in the future.