type: Student Insights topic: Arts and Humanities program: Creative Writing
An Educator Becomes a Student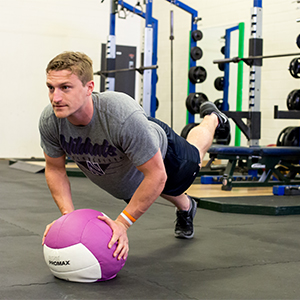 Educators at the high school level are in a particularly prime position to shape students' lives. Jim Davis, the strength and conditioning coordinator at New Trier High School in Winnetka, Illinois, considers the students' combination of intellectual capability and curiosity "the perfect developmental level."
"They can think at a high level and they can have high-level conversations, but they're also still very susceptible to influence, especially positive influence," says Davis. "It's a huge responsibility and a privilege and something I take very seriously."
Davis is also an accomplished poet with eight books to his name. When he decided to pursue his Master of Fine Arts in Creative Writing at Northwestern University School of Professional Studies (SPS), he was eager to further develop his talents as a writer. However, he was also motivated by a desire to connect with more of his students.
"I truly believe that it has allowed me to broaden the scope of the students that I'm able to work with," says Davis. "It's allowed me to find common ground with more of them. That's what matters to me, to identify and work with as many people as possible."
Davis calls the choice for high school educators to pursue a master's in humanities a "no brainer." The part-time, flexible scheduling options in SPS's humanities programs complement teachers' schedules, while the expert faculty members and personalized attention help teachers become authorities in their fields.
Teachers also stand to benefit from the pay raise that comes with a master's degree at many schools. Some studies have shown that teachers with a master's degree continue to earn raises longer into their careers than those without one.
For Davis, the financial return was not the driving motivation. "My goal all along, through everything, is to chase the things I really enjoy and do them as well as I possibly can."
He hopes that dedication is passed on to his students — whether the goal is setting a new personal best in the weight room or penning a new stanza, it will only be achieved by putting in the hours.
"One of the exciting things about the humanities is that as long as you're willing to do the work and chase down your ideas and try to commit them to paper, or make art of them, you can do whatever you want," says Davis, who plans to continue his work at New Trier while focusing on poetry in his free time. "Northwestern was exactly what I was looking for."
Article by Kelsey Rexroat 
tags:
May 15, 2015