Welcome to the Center for Public Safety
With thousands of former students successfully engaged in law enforcement and traffic safety careers around the globe, NUCPS has earned the reputation as the world leader in law enforcement professional development and education. We conduct classes and research projects throughout the United States and North America as well as in the Middle East, Asia, South America, and Africa.
The Key
The Quarterly Journal of the Northwestern Center for Public Safety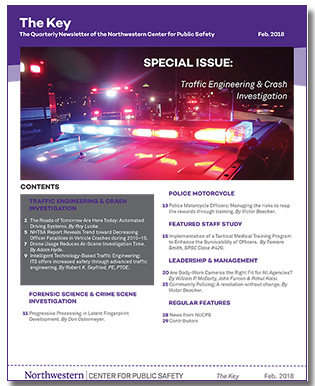 Just released! The Key, Issue 6, May 2018! Choose to read each article individually online -- or download the PDF version .
This quarter's issue offers feature articles in Traffic Engineering & Crash Investigation, Forensics, the law enforcement industry, and Police Motorcycle Units, as well as important news from Northwestern Center for Public Safety. Our scrollable and printable PDF features all of this PLUS contributor information, extra infographics, and more artwork. 
The NUCPS Community
Contribute to the NUCPS Family
Become an active part of your  NUCPS Community.The NUCPS Community extends beyond the sum of our courses and programs. Together, our faculty, staff, program graduates, and current students create a powerful community of leading public safety professionals. Learn about how you can get involved! 
Back to top