Welcome to the Center for Public Safety
With thousands of former students successfully engaged in law enforcement and traffic safety careers around the globe, Northwestern University's Center for Public Safety (NUCPS) has earned the reputation as the world leader in law enforcement professional development and education. We conduct classes and research projects throughout the United States and North America as well as in the Middle East, Asia, South America, and Africa.
The Key
The Journal of the Northwestern Center for Public Safety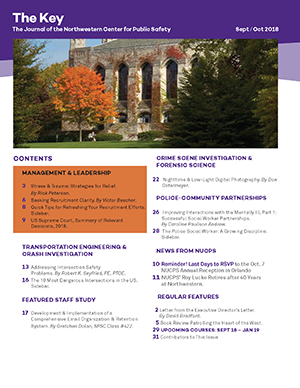 The Key, Issue 7, Sept/Oct 2018 features articles covering Leadership & Management, Transportation Engineering, Forensic Photography, and more.  Contributors include such industry experts as Don Ostermeyer, Rick Peterson, and Robert Seyfried. Read online >>
Our scrollable, printable PDF edition features all of the online content but designed for offline reading. 
RSVP by Sept 30 for the NUCPS 2018 Reception in Orlando
Join Us on Oct. 7 at Maggiano's Orlando!
Eventbrite.
Back to top